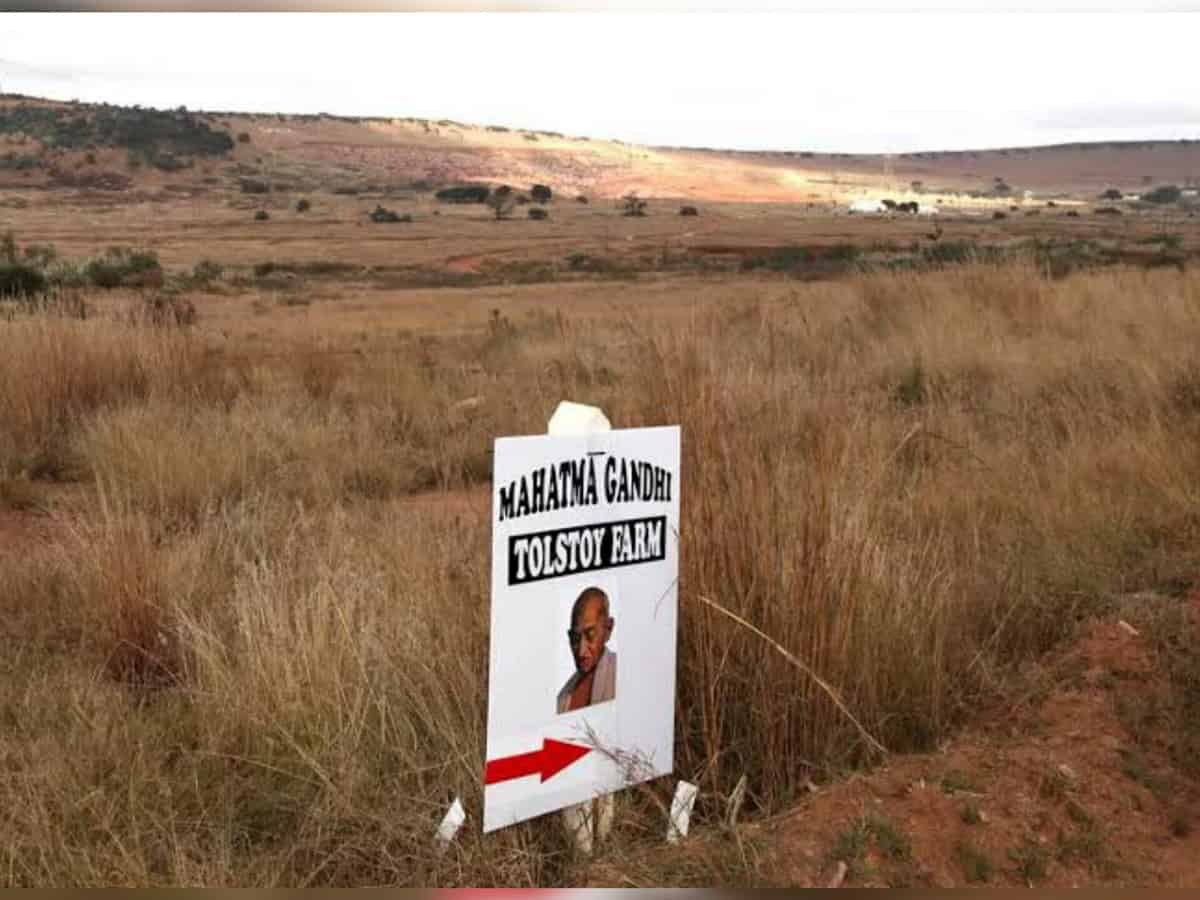 Johannesberg: A new book documenting the revival of the historic Tolstoy Farm, the commune started by Mahatma Gandhi during his tenure in Johannesburg at the turn of the 19th century, was officially launched here ahead of the iconic Indian leader's 75th death anniversary.
The book titled Tolstoy Farm the Road to Recovery' was launched on Sunday and shares how Gandhian enthusiast Mohan Hira almost single-handled changed the completely vandalised Tolstoy Farm, overgrown by grass and bush, to where it today has a Garden of Remembrance, fruit orchards, a library and a museum.
The author, a veteran South African journalist and PTI Correspondent in South Africa Fakir Hassen, shared how this book came about.
"This book is not a complete historical record of the revival of Tolstoy Farm, nor is it an academic exercise on its relevance today, but rather just a collection of some of what I have reported over the last two decades or so," he said.
Hassen has written books on the contemporary history of South African Indians, including three on Gandhi. Gandhi, the father of the nation, was shot dead by Nathuram Godse on this day in 1948.
The author said the idea of this book was initiated in November 2022 when he joined Indian Consul General Anju Ranjan at Tolstoy Farm as speakers at the official opening of the library, put up in record time by Hira and his colleagues at the Mahatma Gandhi Remembrance Organisation (MGRO).
"I had known about Tolstoy Farm from the 1970s when I was a young journalist with the Lenasia Times. I recall seeing some fruit trees and the remains of the wood and iron building that was once Gandhi's home during his tenure in Johannesburg," he said.
It was largely left to Hira's associates at the MGRO and the last few High Commissioners and Consuls General of India to start supporting Hira and his initiatives.
In the book, Hassen quotes South African academic and prolific historian Prof Surendra Bhana's essay incorporating the history of Tolstoy Farm in the South African Historical Journal, No 7, of November 1975.
"Gandhi used the farm much as he was to use the Sabarmati Ashram later in India. One can say that the Tolstoy Farm was a laboratory for experimenting with problematic issues: diet, nature cure, harmonious living with nature, brahmacharya, and so on. It also proved to be a 'training ground' – I must add, incidentally – for his leadership among the people and in the politics of India," Bhana wrote.
Mahatma Gandhi's 75th death anniversary was commemorated as Martyrs' Day the world over on Monday.
Subscribe us on