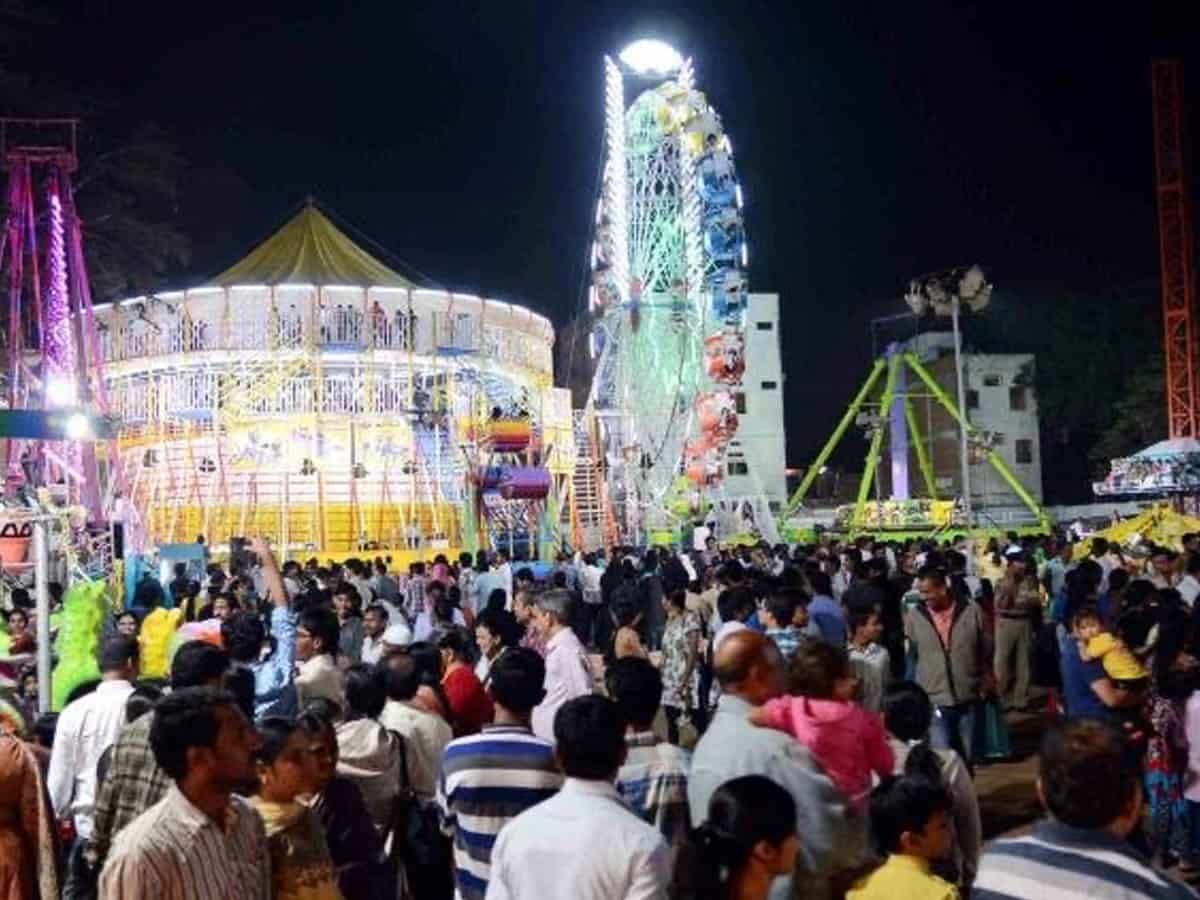 Hyderabad: In a major development, the All India Industrial Exhibition, famously known as Numaish, has been suspended till January 10. This decision comes in wake of the latest Government order prohibiting mass gatherings and cultural events across the state till January 10.
On January 1, Telangana Governor Dr. Tamilisai Soundararajan had inaugurated the 45-day Numaish at exhibition grounds. Later in the day, Telangana chief secretary, Somesh Kumar, passed a government order "strictly prohibiting" rallies, public meetings, and mass gatherings of all types including religious, political, and cultural events, to control the spread of the virus.
Amid the exponential spread of Omicron and COVID-19 across India and other countries, the government felt the need to exercise utmost precaution following which adequate preventive measures have been taken to prevent its further spread, by the prohibition of mass gatherings.
"In wake of the latest Government order prohibiting the rallies and gathering, the society has decided to suspend the Numaish-2022 till January 10, a decision to resume it will be taken later," said Secretary Exhibition Society, Ashwin Margam.
Pending PIL at High Court:
In the year 2019, a fire broke out at the exhibition leading to the loss of property of a number of traders.
A Public Interest Litigation (PIL) was filed before the High Court of Telangana by Lawyer Khaja Aijazuddin on the grounds that the exhibition society had failed to procure mandatory Fire No Objection Certificate (NOC) from the State instrumentality. The PIL is still pending and is due for a hearing on January 4.
Meanwhile, during the last hearing, lawyer Khaja Aijazuddin informed the court that he has petitioned the Union Ministry of Health and Family Welfare, Chief Secretary, Government of Telangana, District Collector Hyderabad, and Director of Public Health and Family Welfare Telangana state, in view of the COVID-19 pandemic and the increasing number Omicron cases, across the country.
The lawyer also informed the court that COVID-19 guidelines, passed by the Government of India, clearly mandate that exhibitions, where thousands of people assemble on a daily basis, are restricted, as per the World Health Organization's (WHO) guidelines. He demanded that such massive gatherings should not be accorded permission, in these conditions.
"Amid horrible situation of 'Omicron' across the globe, India too is witnessing a sharp rise in the infection cases. It is very dangerous, for public health, to hold Numaish which has about 40,000 visitors, every year. Like the previous year, this year too, the exhibition must be avoided," said Khaja Aijazuddin.
Stall holders demand government's help:
The sudden decision of the exhibition society to suspend Numaish has left the stallholders disappointed. "We have bought dry fruits worth lakhs. The sudden closure of the exhibition will lead to major losses," said Sayeed Parvez Ahmed of Kashmir Agro Products.
Subscribe us on