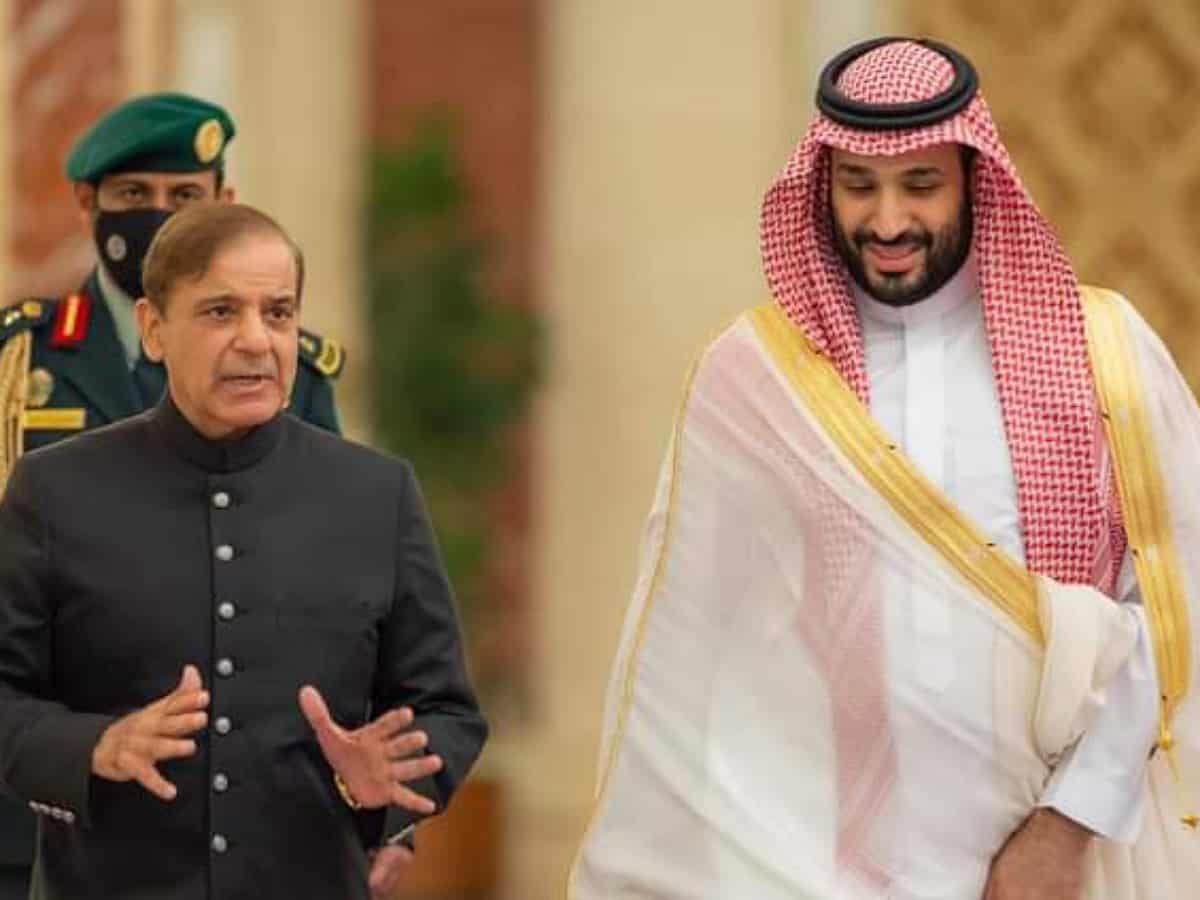 Riyadh: Pakistan's Prime Minister Shehbaz Sharif on Friday met Saudi Arabia's Crown Prince Mohammed Bin Salman at the Al-Salam Palace in Jeddah, the Saudi Press Agency (SPA) reported.
An official reception ceremony was held for the Pakistani Prime Minister.
During the meeting, they reviewed the fraternal and historical relations between Saudi Arabia and Pakistan. They also discussed the prospects of bilateral cooperation and promising opportunities for its development in various fields.
The two sides also reviewed all regional and international matters and discussed a number of issues of common interest.
"PM Shehbaz Sharif met with Crown Prince Mohammed bin Salman. The matters relating to expanding trade & business ties, increasing investment, & creating opportunities for Pakistan's manpower came under discussion during the meeting," the Pakistan PM's office tweeted.
On the occasion, PM Shehbaz introduced the members of his delegation to Mohammed Bin Salman.
Foreign Minister Bilawal Bhutto-Zardari, Defence Minister Khawaja Asif, Finance Minister Miftah Ismail, Information Minister Marriyum Aurangzeb, Pakistan Ulema Council Chairman Tahir Ashrafi, and others accompanied the PM.
Prime Minister Shehbaz Sharif Thursday arrived in Saudi Arabia for his three-day visit on the invitation of Saudi Crown Prince Mohammad bin Salman bin Abdulaziz.
Shehbaz Sharif on Saturday performed Umrah in Makkah along with members of his delegation visiting the Kingdom. The doors of Kaaba were specially opened for the prime minister and his delegation.
Earlier in the day, Shehbaz Sharif offered Friday prayers at Prophet's Mosque in Madinah on the second day of his official visit to Saudi Arabia.
On this occasion, the Prime Minister prayed for the security, stability, and prosperity of Pakistan.
Subscribe us on