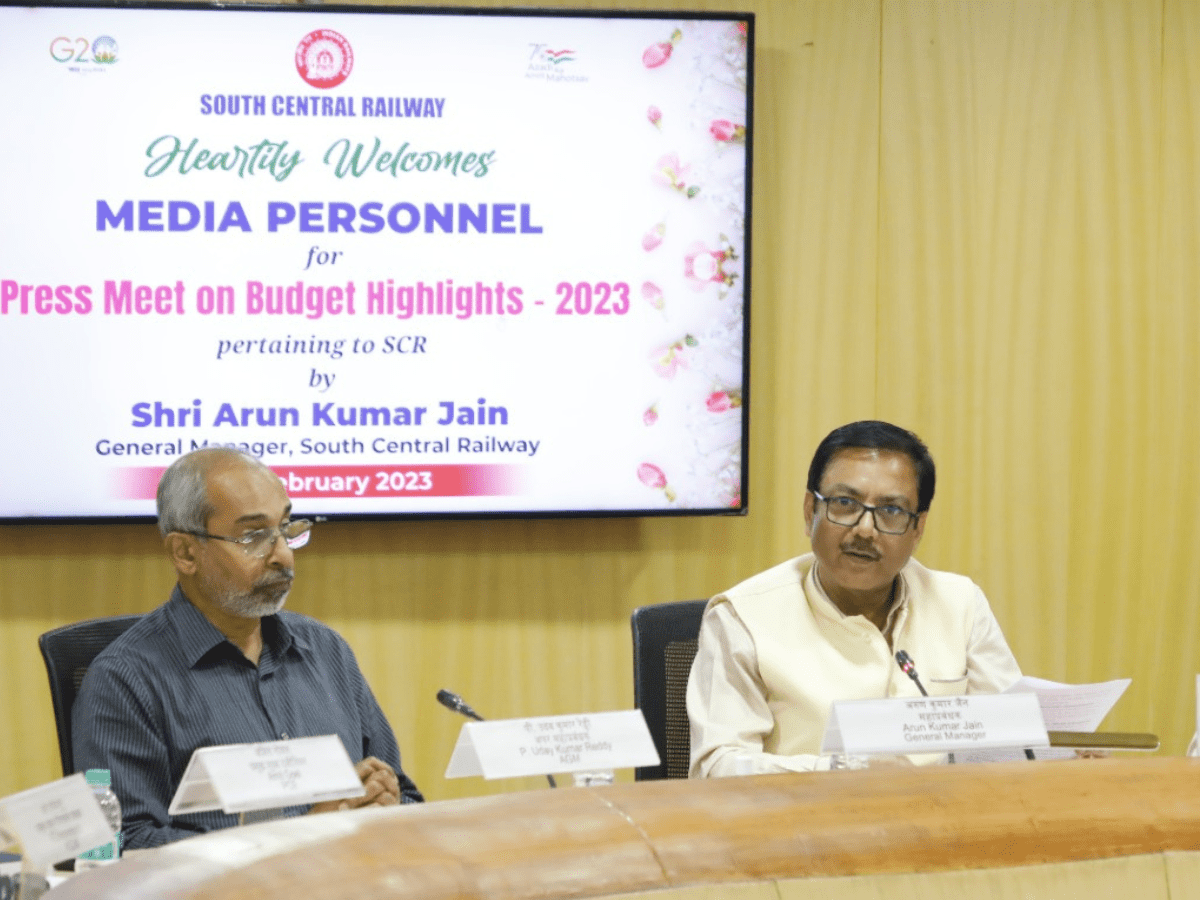 Hyderabad: Telangana has been allocated Rs 4,418 crore, by the Centre for various railway projects for the fiscal year 2023-24 as against Rs 3,048 crore allocated in 2022-23 which is 45 percent more than last year.
South Central Railway (SCR), on the other hand, has been sanctioned a gross amount of Rs. 13,786.19 crores for the year 2023-24 compared to Rs 8,349.75 crores for the year 2022-23, which accounts for a nearly 65 percent increase over last year.
SCR general manager Arun Kumar Jain while addressing a press conference on Friday, stated "there has been a consistent increase in the funds' allocation to Telangana in successive budgets in recent times."
Giving details of the budgetary allocations of the ongoing New Line Projects in Telangana under the SCR jurisdiction, the manager stated, " Rs 345 crores were allotted for Munirabad to Mahbubnagar railway line, Rs 185 crores were allotted for Manoharabad–Kothapalli line and Rs 10 crores allotted for Manuguru to Ramagundam line.
He further stated that Rs. 600 crores was allotted for the MMTS Phase II project doubling and electrification.
Likewise, Rs. 337.52 crores were allotted for Kazipet to Vijayawada and Rs 450.86 crores were allotted for Kazipet to Balharshah third-line projects.
Adding on to the details, Arun Kumar stated that Rs 60 crores were allotted for Guntur to Bibinagar doubling project, while Rs 315.6 for the electrification of the Manmad to Mudkhed to Dhone section and Rs 82 crore was allotted for the development of the satellite terminal at Cherlapally station.
For doubling, third line, and bypass line works, the capital outlay is Rs 3,374.44 crore for the fiscal year 2023-24, as against Rs 1,531 crore in the last financial year.
The total budget allocated for new lines, including capital and safety Fund (excluding Deposit) is Rs 819 crore when compared to Rs 285 crore last fiscal year.
For electrification works, the budgetary grant is Rs. 588 crores, said the manager.
"An amount of Rs 68.34 crores has been allocated for implementation of Kavach, the indigenously developed Train Collision Avoidance System (TCAS)," he said.
Arun Kumar further added that Rs 1,360 crore was allocated for Track Renewal works and Rs 768.14 crore for Road Safety Works.
Subscribe us on