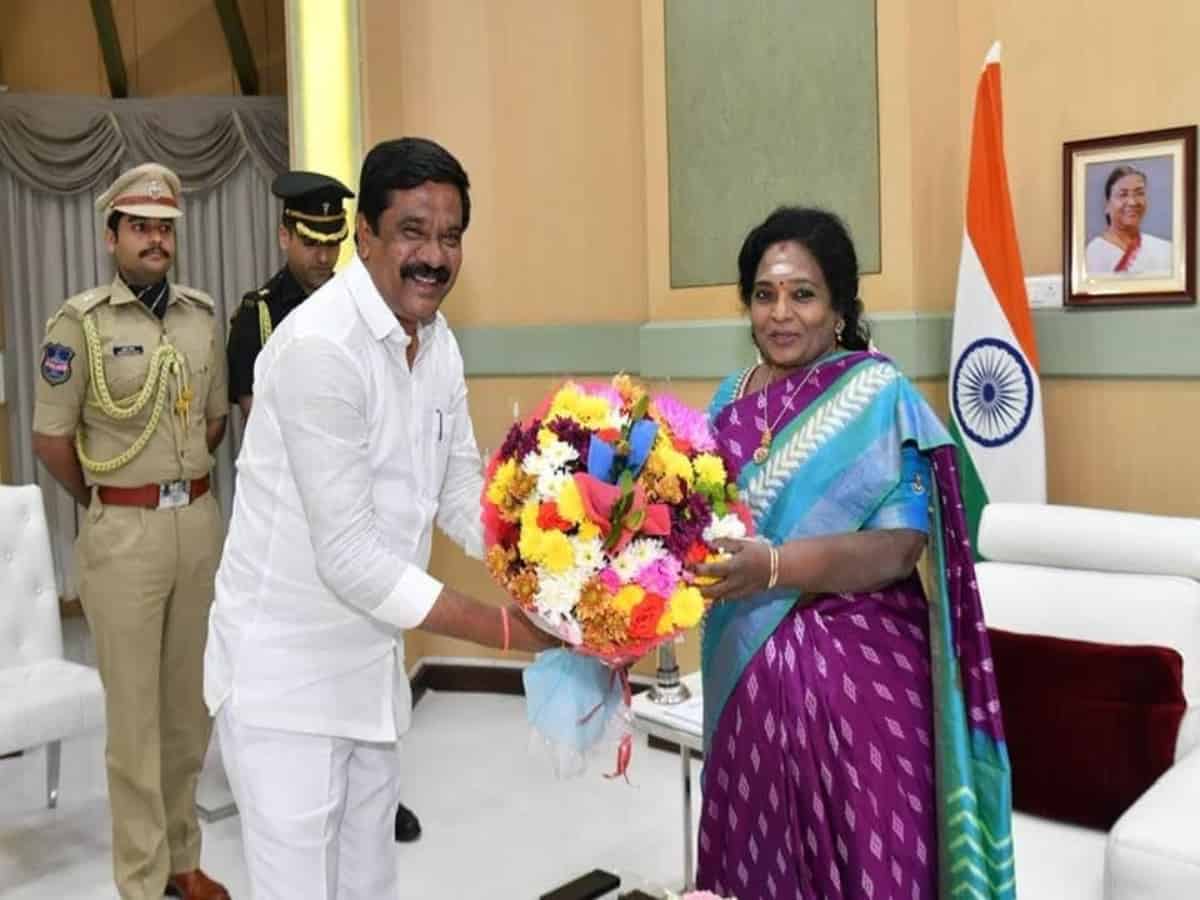 Hyderabad: Telangana Governor Tamilisai Soundararajan will be addressing a joint session of the Assembly and the council after a gap of almost a year.
Legislative affairs minister Vemula Prasanth Reddy along with other officials extended the invitation to the governor on Monday following which she approved clearing the annual financial budget, and the Bills pending with her.
The government officials filed a petition in High Court on Monday, seeking direction from the Governor for approval of the introduction of the budget.
However, the petition was closed later in the day after respective counsels struck a compromise.
Legislative affairs minister Prasanth Reddy held talks with chief minister K Chandrashekhar Rao at Pragathi Bhavan before calling on the Governor.
He then met the Governor along with special chief secretary (Finance) K Ramakrishna Rao and legislature secretary V Narasimha Charyulu.
Subsequently, a proposal will be sent to the Governor to prorogue the Assembly following which she will summon the Assembly session within a week.
However, it remains uncertain if the Assembly session will be held on the scheduled date or it would be postponed.
Glitch between the Governor and the government
The government last year conducted the budget without the customary address by the Governor, drawing a strong reaction from her.
The BRS government defended its move on the ground that it was not a new session but a continuation of the previous session.
The Budget session of the Assembly and Legislative Council is scheduled to begin on February 3.
With only four days left and no approval of the budget coming from the governor, the government approached the High Court.
The BRS leaders anticipated a crisis as seven Bills passed by the Assembly and Council have been languishing at Raj Bhavan since September last year.
The government has taken exception to the Governor's delaying approval of the budget. It argued that the Governor's speech and the Budget presentation were unrelated matters. It also says that there is no clause in the Constitution that requires the Governor to address the Budget session.
The BRS government cited Article 202 of the Constitution, which mandates that a Governor must give permission for presenting before the House a statement of the estimated receipts and expenditures of the state for a financial year.
With the BRS government approaching the court, the friction between the Governor and the government had taken a new turn.
Subscribe us on