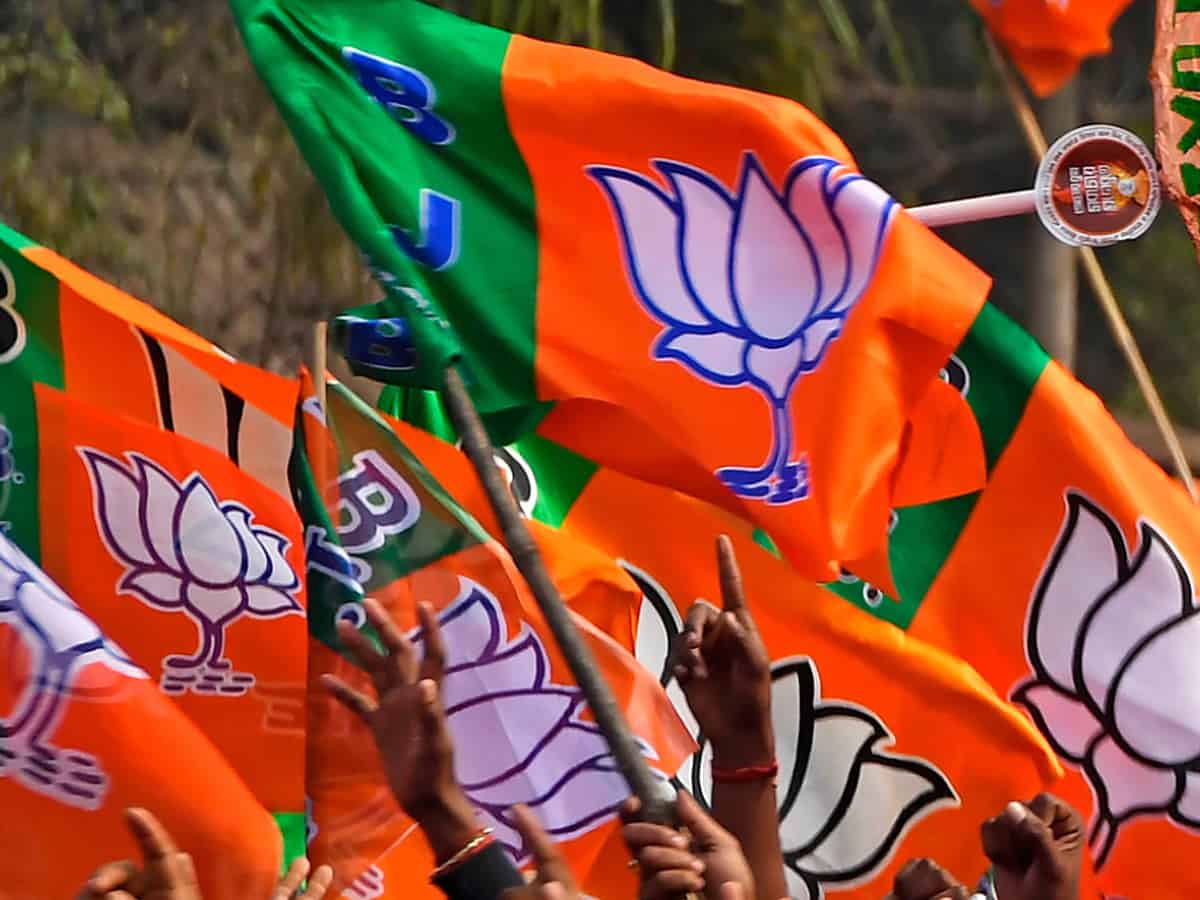 Patna: Corruption has been a plank for BJP to further its political goals. It happened in the run up of 2014 Lok Sabha election and it appears to be happening in the run up to 2024 Lok Sabha election as well.
The recent raids on Lalu Yadav's family and the way former Delhi Deputy Chief Minister Manish Sisodia was sent to jail allegedly for liquor scam, corruption will be a core issue for BJP to raise in the Lok Sabha election 2024.
"BJP is afraid of its position in Bihar. It is the only opposition party in the state. Moreover, the caste equation is not favourable for it. Hence, pressurising the opposition parties and eliminating their prominent leaders from the politics is the only ploy left for BJP," said Mritunjay Tiwari, national spokesperson of RJD.
"The Narendra Modi government has completely failed in the last 9 years. Hence, it is using constitutional agencies to target opposition leaders. We will remember it. They are not born to rule the country for their entire life. Political turn around will happen," Tiwari said.
In the run up to the 2014 Lok Sabha election, BJP arrived in the corridor of power by bringing up alleged irregularities in sale and purchase of lands. At that time, Robart Vadra was the target. In 2024, the target is shifted to Yadav family and Manish Sisodia.
Why is BJP afraid of Bihar?
Over the years, BJP has been contesting elections in Bihar behind the face of Nitish Kumar. Now, Nitish Kumar, in a bid to save his own party, teamed up with RJD last year.
It has put an established leader like Sushil Kumar Modi aside after the 2020 assembly election, and brought Tar Kishore Prasad and Renu Devi as his substitutes. BJP top leadership realised that Sushil Kumar Modi is the one leader who could bat on the bumpy pitch of Bihar. Modi is spearheading in Bihar to target Nitish Kumar and Tejashwi Yadav.
Sushil Modi justified Friday's ED raids on Lalu's family. He asked Tejashwi Yadav to reveal how he owned a luxury house in the upscale locality of Delhi at such a young age. At 29, Tejashwi Yadav was the owner of 52 properties.
"Instead of answering these questions, he and other members of the family are crying foul," Modi said.
"There are two persons responsible for the plight of Lalu Prasad Yadav and they are Bihar CM Nitish Kumar and JD-U national president Lalan Singh. They have provided the documents of IRCTC lands for the jobs scam to CBI. Lalan Singh was the one who had discovered this scam in 2008 and also wrote a letter to then Prime Minister Manmohan Singh," Modi said.
In 2019, BJP along with JD-U had given an impressive show by winning 39 out of 40 Lok Sabha seats and one seat went to Congress party. In that election, BJP contested the poll on the face of Nitish Kumar in Bihar.
Shivanand Tiwari, the vice president of RJD told IANS: "BJP is turning out to be politically bankrupt in the country. They never talk about real issues like price rise, unemployment, farmers related issues, education, health etc. Hence, they have only one option: communalise the society to win elections and remain in power."
"The situation of BJP in states like Bihar, West Bengal, Jharkhand, Chhattisgarh, Telangana, Tamilnadu and other non-BJP ruled states are not impressive at the moment. BJP think tanks believe that mission 2024 may take a big jolt if the party would not perform well in these states," he said.
Non BJP ruling states will hold the key in the 2024 Lok Sabha poll.
At present, BJP has to take on Nitish Kumar and Tejashwi Yadav in Bihar, Mamata Banerjee in West Bengal, Navin Patnaik in Odisha, Hemant Soren in Jharkhand, Raman Singh in Chhattisgarh, Ashok Gahlot in Rajasthan, Arvind Kejriwal-Bhagwant Mann in Delhi and Punjab, Sharad Pawar-Udhav Thakeray in Maharashtra, KCR in Telangana, M.K. Stalin in Tamilnadu and left parties in Kerala. Recently, Tejashwi Yadav met Hemant Soren, Arvind Kejriwal, and M.K. Stalin in a bid to unite the opposition parties.
These states and the leaders are holding the key in Lok Sabha election 2024 as West Bengal is having 42 Lok Sabha seat and Mamata Banerjee-led TMC is in power, Rajasthan and Chatishgarh have Congress governments and they respectively have 25 and 11 seats.
In Jharkhand, JMM led by Hemant Soren is in power with 14 seats. Kerala has 20 Lok Sabha seats and the Left is ruling the state. In Telangana, KCR is ruling the state with 17 seats. DMK led by Stalin has a government in Tamil Nadu and it has 39 Lok Sabha seats.
In Punjab, AAP government is ruling with 13 seats. YSR Congress led by Y.S. Jagan Mohan Reddy has 25 seats. In Bihar, Nitish Kumar and Tejashwi Yadav are the big challengers in the 40 seats of the state.
So, a total of 228 Lok Sabha seats fall under these states ruled by opposition parties where BJP leaders cannot influence the government machinery for the political benefits during Lok Sabha election 2024.
Besides, Maharashtra is another state where the influence of NCP leader Sharad Powar cannot be ruled out. Maharashtra has 48 Lok Sabha seats.
After the Maharashtra government changed, BJP has the upper hand in the Lok Sabha election.
At present, BJP is wielding power in big states like Uttar Pradesh with 80 Lok Sabha seats. Besides, Uttar Pradesh, BJP is ruling in Karnataka with 28 Lok Sabha seats, Madhya Pradesh with 29 seats, 26 in Gujarat, Assam with 14 seats, 10 in Haryana, 5 in Uttrakhand and Himachal Pradesh has 4 seats. So the total reached 196 Lok Sabha seats.
The BJP think tank knew that law and order is a state subject and BJP can influence the state machinery for its political benefits. The change of government in Maharashtra has given an edge to BJP as it can directly influence government machinery in 244 Lok Sabha seats.
BJP won 303 seats in 2019 and formed the government at the Centre. Hence, JD-U national president Lalan Singh is claiming to cut 44 seats of BJP from Bihar, West Bengal and Jharkhand, it would tumble below 260 seats. In that case anything can happen. BJP won 17 seats from Bihar and 16 seats from West Bengal and 11 seats from Jharkhand in 2019.
Subscribe us on