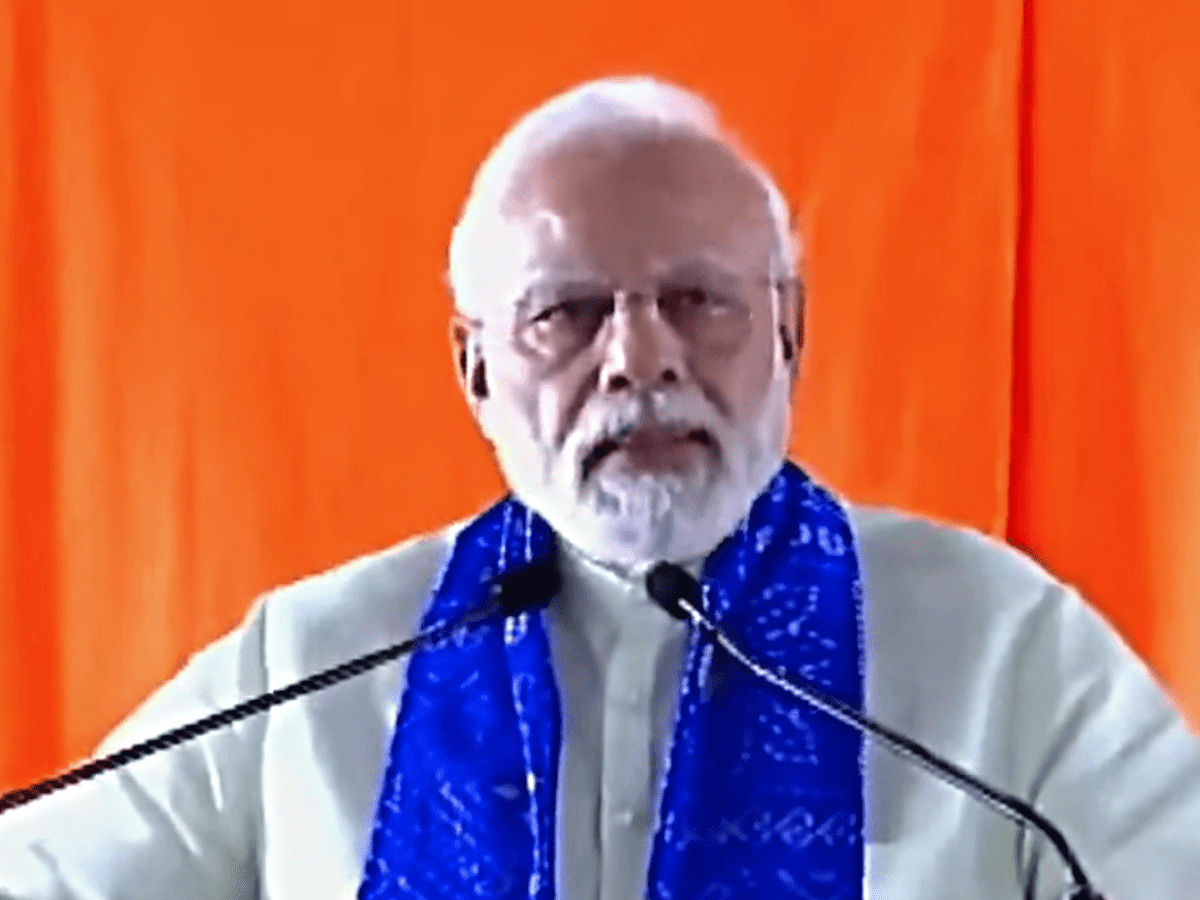 Hyderabad: Prime Minister Narendra Modi addressed a public meeting at Parade Grounds in Secunderabad today.
The PM arrived in Hyderabad on Saturday to attend the Bharatiya Janata Party's two-day national executive committee meeting. July 3 marks the second and final day of the party's national executive meet, which concluded at 4 pm. The two-day shenanigans was followed by the public address by PM Modi at 6 pm.
In the public meeting titled 'Vijay Sankalpa Sabha', Prime Minister set the tone for the Bharatiya Janata Party's (BJP) preparedness for the upcoming Assembly polls in Telangana. More than 35,000 BJP supporters were present at the rally.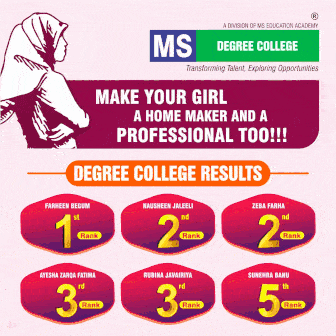 BJP national executive meet and public rally LIVE UPDATES:
07:25 PM: "BJP is not only making projects of innovation & tech but also providing resources to poor brothers & sisters… we're putting continuous efforts into the welfare of Telangana's farmers…In the last 8yrs, the length of NH in Telangana has increased twice; 5000km long network": PM Modi
07:20 PM: It's our perpetual attempt to take steps that benefit the farmers of Telangana. We bought grain from the farmers and have increased the MSP per quintal: Modi
07:13 PM: People of Telangana are eagerly waiting for BJP's double engine: Modi
07:11 PM: There is constant growth for BJP in Telangana: Modi
07:08 PM: BJP-led central government's schemes have positively affected the people of Telangana: Modi
07:05 PM: Modi invokes Queen Rani Rudrama Devi and freedom fighter Komaram Bheem and says that they depict Telangana's bravery
06:59 PM: Modi begins the speech in Telugu, thanks the crowd for coming to the rally. "Today it feels like the full of Telangana is here at the venue. I thank the soil of Telangana for this welcome," he said.
06:56 PM: Kaleshwaram project has become KCR's ATM, and the state is in huge debt: JP Nadda
06:52 PM: The numbers I see today give me the confidence that KCR is going to lose now and BJP will come to power: JP Nadda
06:44 PM: Bandi Sanjay calls Modi a 'Tiger', says a 'fool' like KCR will never understand his greatness.
06:41 PM: TRS is disrespecting PM Narendra Modi for thinking about the poor of this country: Bandi Sanjay
06:29 PM: PM Modi arrives at the venue amidst the sloganeering of 'Bharat Mata ki Jai' and 'Jai Shri Ram'
06:25 PM: Crime against women has gone up in Telangana, time to put a stop to it: Piyush Goyal
06:09 PM: JP Nadda officiates the membership of TRS Former MP Konda Vishweshar Reddy
06:04 PM: KCR hasn't organised the Hyderabad state freedom day because he is afraid of Owaisi. We will conduct it immediately after we come to power: Amit Shah
06:03 PM: KCR's steering is with AIMIM's Asaduddin Owaisi. What is the situation of a state where separatists like Owaisi are in power? : Amit Shah
06:00 PM: For KCR, employment is making KTR the chief minister. He has no interest in the employment of youth: Amit Shah
05:58 PM: "I have seen Telangana's mood. KCR… conduct elections whenever you want, BJP is going to win." : Amit Shah
05:54 PM: "Bhagynagar's 'destiny' to change soon, Lotus will bloom." : Yogi Adityanath
05:53 PM: No Central scheme has been implemented with interest in Telangana. Even when implemented, the state government takes credit for the work: Yogi
05:52 PM: Union Defence minister Rajnath Singh arrives at the venue
05:45 PM: UP CM Yogi Adityanath reaches the venue
05:43 PM: Telangana BJP chief Bandi Sanjay Kumar arrives at the venue
05:39 PM: "KCR has gone crazy after looking at this huge meeting of the Prime Minister": BJP leader DK Aruna
05:35 PM: BJP National chief JP Nadda arrives at the event along with union minister Nitin Gadkari.
05:34 PM: "In a short while from now will be addressing a public meeting in Hyderabad. Telangana is witnessing a surge in support for BJP. Our development works have benefited people across all sections of society especially farmers, youngsters, women, and the marginalised communities," PM Modi tweeted.
05:32 PM: Union Home Minister Amit Shah arrives at the event. BJP OBC Morcha chief calls him the next 'Sardar Patel' for "unifying the country".
05:27 PM: Narendra Modi respected the Dalits of this country by making Ramnath Kovind the President of India while KCR went back on his promise of making Dalit the chief minister on Telangana: BJP MLA Eetela Rajendar.
05:12 PM: "Prime Minister Shri Narendra Modi ji said two very interesting things. First – Our aim should be from P2 to G2 i.e. pro people, pro active governance (relative to the people, relative to good governance) should be our entire working method." : Union Minister Ravi Shankar Prasad
05:06 PM: "In states where they (party workers) are suffering enormous hardship and yet remain firm to ideology… PM Modi stated that our aim should be to make it clear that our thought process should be from appeasement to fulfillment": BJP leader Ravi Shankar Prasad
03:40 PM: Indian currency is doing better than other currencies in these testing times of Covid-19 and the war in Ukraine. India is the oasis of stability: Piyush Goyal
03:24 PM: TRS used all state machinery and destroyed our banners, posted theirs over ours: G Kishan Reddy
03:15 PM: "TRS is corrupt and the state is running under a dynastic rule. BJP under Prime Minister Narendra Modi's leadership will soon end this," said Piyush Goyal
03:10 PM: Union Food and Public distribution minister Piyush Goyal addresses a press conference at HICC Hyderabad
02:38 PM: Prime Minister Narendra Modi at the two-day National Executive Committee meeting in Hyderabad
01:17 PM: "HM also spoke about Opposition. He said that today the opposition is divided. Congress members are fighting to establish democracy in the party, but not electing a party president out of fear. Congress has 'Modi phobia'. They're opposing every decision taken in the national interest": Assam CM
01:08 PM: "Home Minister Shri Amit Shah said that Congress has become 'Modi Phobia', Congress has started opposing every decision in the interest of the country. Congress is in complete desperation and despair." : Assam CM Himanta Biswa Sharma
01:05 PM: "HM Amit Shah called the Supreme Court judgment, over Gujarat riots, historic. He said that all the allegations were declared false by the Supreme Court and the court called it politically inspired": Assam CM and BJP leader Himanta Biswa Sarma, in Hyderabad, Telangana
8:00 AM: Uttar Pradesh chief minister Yogi Adityanath visited the Bhagyalakshmi temple near Charminar in the Old City on the second day of the BJP NEC meet
Subscribe us on