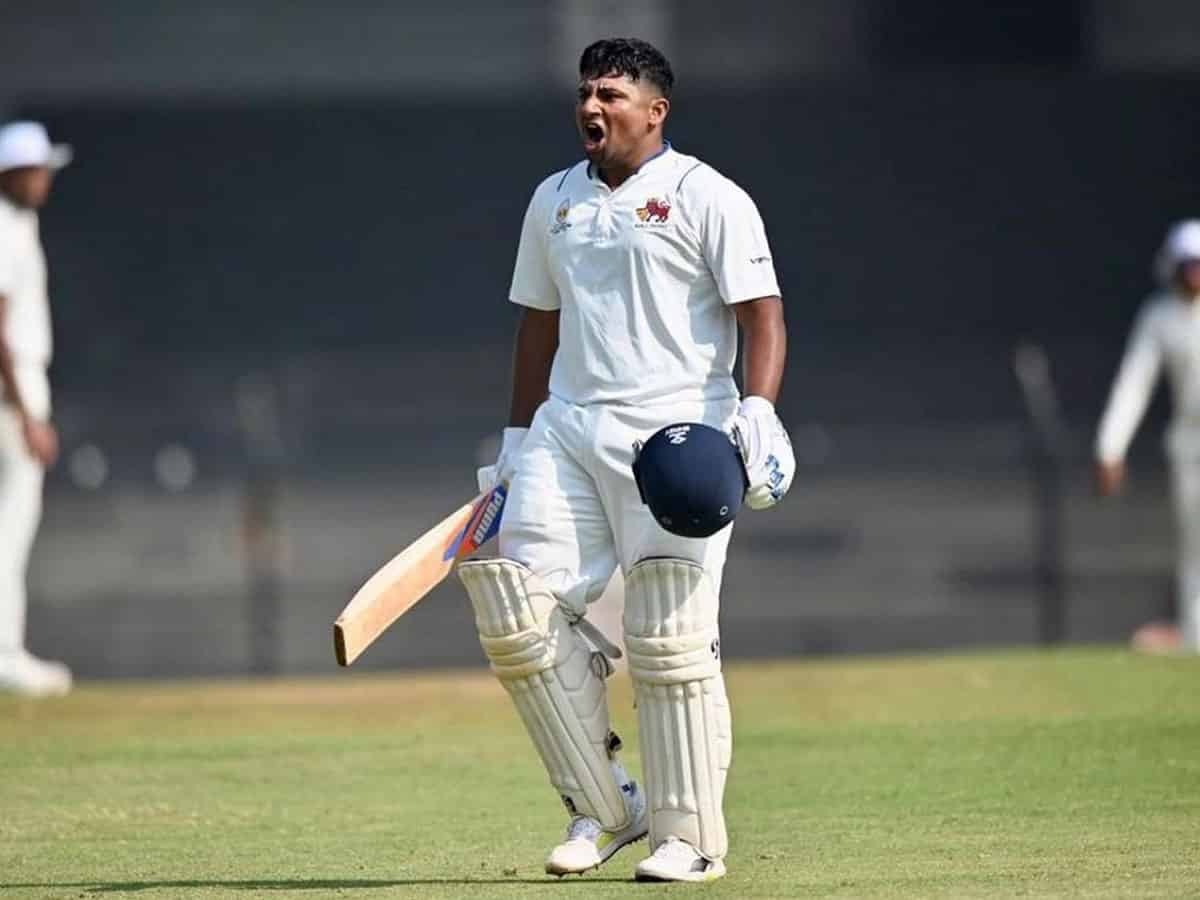 In Indian domestic cricket, the Mumbai batter Sarfaraz Khan has been one of the most consistent performers for three years. However, despite piling up massive scores regularly, he has not been picked for the national squad. He must be wondering what more he must do to get selected in the Indian team. His case is being discussed widely on social media and cricket fans all over India are raising questions about why this promising batter is being treated unfairly by the BCCI selectors.
Even former India players Akash Chopra and Irfan Pathan have blasted the selection policy. "What message are you sending to the youth of our country?" they have asked.
In the 2019-2020 Ranji Trophy season, Sarfaraz scored 928 runs in six matches at an astonishing average of 154.66 with three centuries and two fifties. In the following season he continued his fantastic form to amass 982 runs at an average of 122.75 with four centuries and two fifties. The runs continued to flow this season too. He has so far scored 431 runs at an average of 107.75 with twin centuries and a fifty. Indeed his performances are comparable to the level once attained by the great Sir Don Bradman.
Sarfaraz himself has shared some important information on Instagram recently. He mentioned that his career first-class average is 80.47 which is among the highest in the world.
When he was a schoolboy, Sarfaraz came into the limelight when he broke the 45-year-old record of Sachin Tendulkar by scoring 439 off 421 balls in a Harris Shield match. It was his maiden Harris Shield match when he was only 12 years old. The innings included 56 fours and 12 sixes. Sarfaraz soon started playing for the Mumbai Under-19 team and his performance led to selection for the Indian Under-19 team. Even West Indies star Chris Gayle had said that Sarfaraz is a player with a great future.
After all this, why does Sarfaraz not get a place in the senior Indian team? The national selectors must answer why this injustice is being done to a talented player who is only 25 years old and by no means past his peak. If he is not given a chance now, then when will he be given his due? This treatment may destroy not only the morale of an immensely talented player but also set a bad example for other young players who are striving to enter the elite level.
In Hyderabad a coach who has followed the cricket career of Sarfaraz Khan is Faiyaz Gazi Ali. He is the head coach and secretary of the Emerging Cricketers Development Group (well known as ECDG) and he is a very experienced official who has seen the progress made by Sarfaraz from childhood. Therefore, Faiyaz Gazi is in the right position to make a sound judgement about this exciting player from Mumbai.
"Sarfaraz has displayed extraordinary talent in all age groups right from his childhood. He did a fantastic job in two Under-19 World Cups and in the Ranji trophy for the last three years. When he heard that he did not find a place in the Indian team yet again, he was devastated. I have heard that he was weeping inconsolably. But I would urge Sarfaraz not to give up. He is a hard working player and he must keep up his game without being discouraged. Surely a reward will come to him soon. He must do his best again and again till the selectors wake up and call him into the Indian team," said Faiyaz Gazi.
One hopes that Sarfaraz will heed the advice of his seniors and well wishers. He should not give up hope at this crucial juncture. Sooner or later his efforts will bear fruit. It will be good for himself as well as Indian cricket if he gets the reward that he deserves.
Subscribe us on