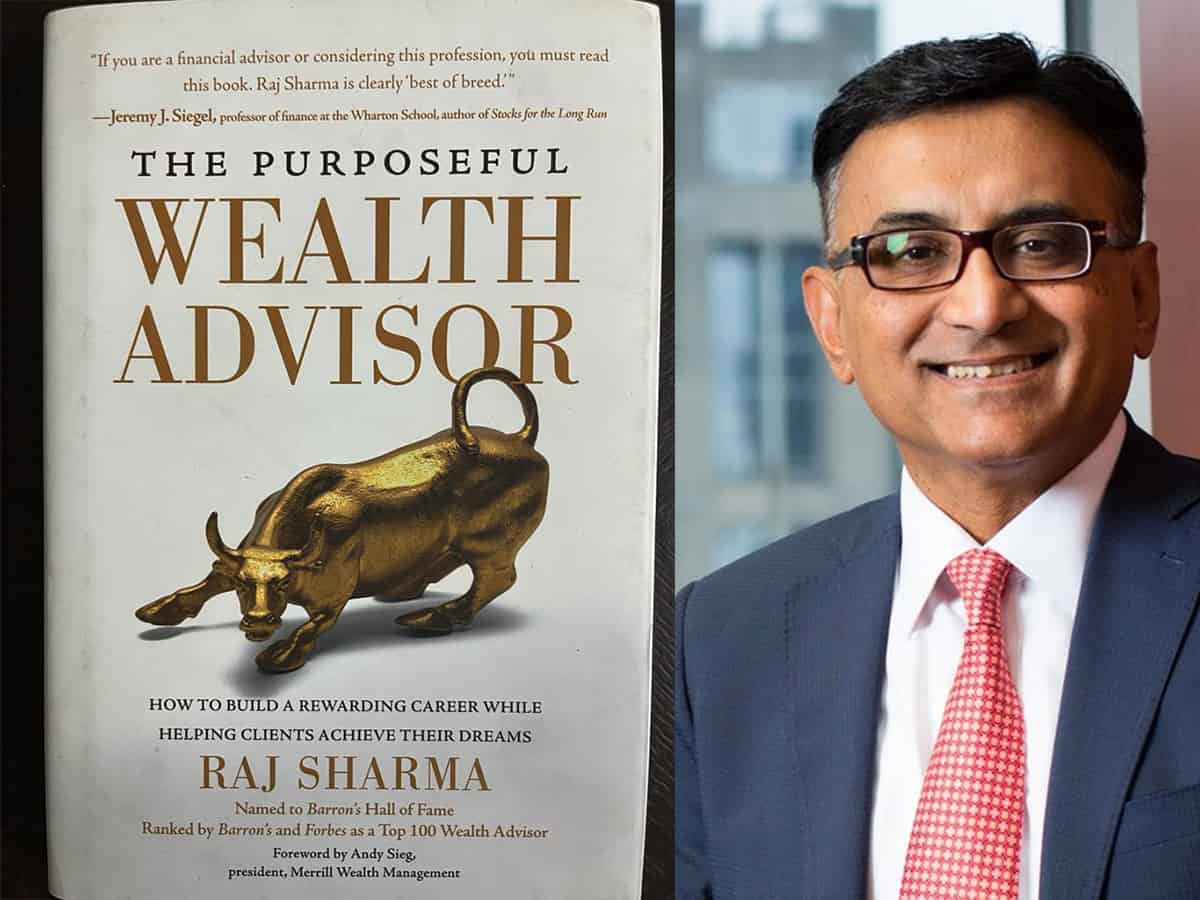 Building a career in the US and making big money for an Indian is quite normal. But, advising and helping Americans, especially enterprises in both creating wealth and use it satisfactorily is a completely different ball game. This is where, Raj Sharma, of Indian origin and based in Boston excels as a successful wealth advisor.
His debut book The Purposeful Wealth Advisor is a ready reckoner for professionals in business and finance intending to pursue a career in the field as well as those wanting to manage their wealth and fulfill their dreams.
"In this inspiring immigrant success story, Raj Sharma shows us exactly what has enabled him to go from his humble beginnings to being one of the most successful wealth advisors in America. Raj has written a necessary and timely book, delivering a roadmap for unlimited success," commented Ajay Banga, former CEO & Executive Chairman of MasterCard and now a nominee to the post of President, World Bank by Joe Biden, the US President.
Hailing from a middle class family from Himayatnagar in Hyderabad, Raj Sharma grew up during times when taking or loan or doing business did not find much appreciation but academic achievements did. So, like most of his contemporaries he pursued a Bachelor's in economics and business from Nizam College and then an MBA. But, parallely he worked, part time as a Radio Jockey, which in fact stood him good when he reached Boston in the early 1980s in search of greener pastures.
After a masters degree in mass communications from Emersons College, Raj worked in film and video production and also tried a startup in gourmet coffee long before Starbucks and moved onto financial advisory in a couple of years. His big break came when he joined Merrill Lynch in August 1987.
There has been no looking back for Raj Sharma, whose career graph peaked with him being named among the top 100 Wealth Advisors in the US by Barron's and Forbes in the last few years. He draws heavily on the learning and experiences during this long innings to enrich the contents of the book.
The author busts several myths about the typical financial advisor, with his career itself being a shining example and citing examples. It's no longer the stereotypical 'white man in his fifties, a man who went to an Ivy League school and has a lot of rich friends and relatives who send clients his way or a math wizard pouring over spreadsheets and calculating compound interest.
For one, with 55 percent of Americans owning stock the scope for extending financial advisory to them is open to those planning a career in wealth advisory and need not worry of connections with the wealthy and rich uncles to get a start, he says.
He draws a comparison to finding a good primary care doctor. People are looking for competence, care and integrity. Anyone with those qualities can build a strong business as an investment advisor. And, as you grow the clients too can grow. While the financial advisory industry in the US continues to be male dominated and mostly white, the scope for women and people of colour is growing.
Raj also dismisses the feared threat from Robo-Advisor, though by end of 2020 robots were managing about $460 billion. Robo-advisors-tech companies that use algorithms to manage investments are cheap. But, they won't replace financial advisors as they cannot do many things, for example reassure clients in the middle of a market correction.
The author takes us through a journey running into 220 pages to explain how financial advisory is just not limited to investment managers. Their role expands into family dynamics, tax optimisation, estate and legacy strategy, philanthropy, asset and liability management, business services and risk management. To top it all is the emotional support they can provide.
Like several successful immigrants who want to give back to India, Raj Sharma too as been doing his bit. The Bhuj earthquake of 2001 led to the starting of the America-India Foundation (AIF) post the meeting of Bill Clinton and Atal Bihari Vajpayee in 2001. Given his connections and advisory role to the influential people, Raj played a key role as part of Merrill Lynch, which organised a fund raiser. In 2004, with his wife Nalini, Raj Sharma started the Boston chapter of AIF.
Incidentally, the AIF, which now supports social causes in India and US launched its first country chapter outside the US in Hyderabad in February at the initiative of Nalini and Raj Sharma. The chapter was inaugurated by K T Rama Rao, the Minister for IT, Municipal Administration and Urban Development. It will take up more projects in the near future.
Subscribe us on