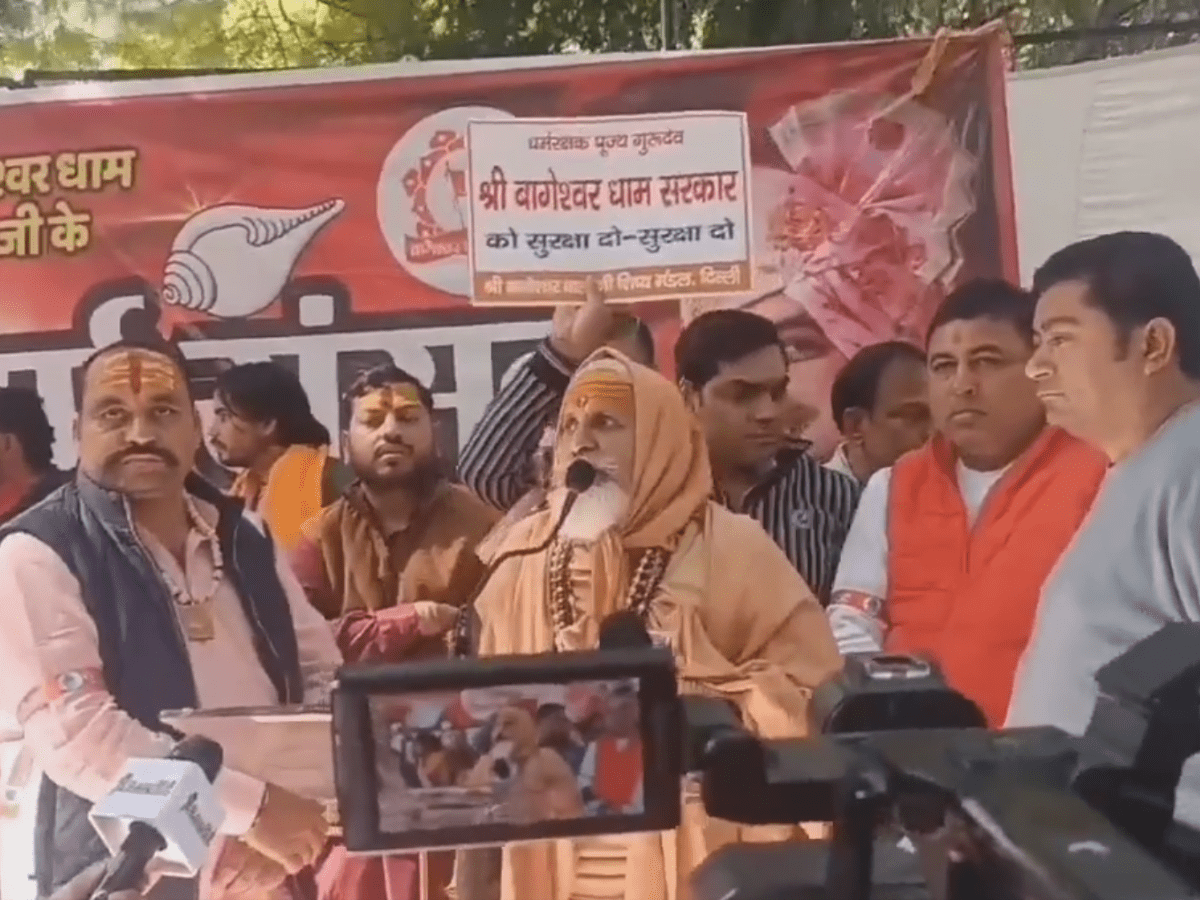 The Delhi police issued a notice to Molitics media house for covering a priest's genocidal rant against Muslims and Christians during a Hindu Parliament at Jantar Mantar in New Delhi on February 6.
The "Dharma Sansad," called for the murder of Muslims and Christians on Sunday at Jantar Mantar in the nation's capital Delhi.
"It has been observed that you are using Social Media for posting offensive, malicious and inciting posts. New Delhi District's Cyber Police Station, the Nodal Agency for cyber crimes in New Delhi District of Delhi Police hereby issues notice against you under section 149 CRPC for posting offensive, malicious and inciting message which can adversely affect law and order,"
read the notice tweeted by DCP New Delhi.
"You are here by directed to refrain from doing so failing which you will be liable for strict penal action under relevant provisions of law," the notice added.
In response, Anudeep Jaglan, the founder and director of Molitics, wrote in a tweet. "I'm still confused! Why would you send this to us? I hope such notice must have gone to these saffron-clad criminals too."
What was the Dharam Sansad about
The event was organized in support of Dhirendra Krishna Shastri, popularly known as Bageshwar Dham Sarkar, a 26-year-old priest of the Bageshwar Dham temple and right-wing news channel Sudarshan TV editor-in-chief Suresh Chavhanke. It is worth noting that there were over 400 people witnessing the speech.
Interestingly, the event happened on the same day when the Supreme Court of India acknowledged hate crimes and their repercussions. "There cannot be any compromise on hate speech at all," the top court said.
Many videos have gone viral since then. In one such video, a Hindu religious leader, Mahamandleshwar Swami Bhakt Hari Singh asked the public when will Hindus start killing Muslims and Christians.
"The British said divide and rule, the Congress said divide and rule, Christians said so, Muslims said slay and rule…When will you kill? After all of you die? One small knife used to cut vegetables will not work. Keep weapons at home. Kill Muslims and Christians. The weapon should be in one hand and scripture in the other," he thundered.
Later while speaking to reporters, he defended his statements saying that those who attack Hindu women, cows, and the Hindu religion will not be spared.
According to Haryana BJP's media coordinator and Karni Sena chief Suraj Pal Amu, the Indian Constitution has no relevance and what matters most is establishing a Hindu Rashtra.
The BJP leader announced his support for Chavhanke who is currently being probed for administering a provocative oath to a group of people at an event of Hindu Yuva Vahini in Delhi in December 2021.
"Suresh Chavhanke is not alone in this fight for Hindu Rashtra. The entire Hindustan is with him. And the 'lobby' who is working against him will not be spared," the BJP leader said.
Why is Suresh Chavanke being probed?
In December 2021 event, Chavhanke said, "We take an oath and make a resolution that till our last breath, we shall fight, die for and if need be, kill, to make this country a Hindu Rashtra".
The matter went to Supreme Court which asked the Delhi police to submit a report against Chavhanke. On January 13 this year, the apex court expressed dissatisfaction over the probe's progress.
"No palpable progress has been made by the Delhi Police in the investigation into cases of hate speeches made at religious assemblies in the national capital in 2021", the Supreme Court noted.
In response, the Delhi Police said that the final report was almost ready and many have been examined during the course of the investigation.
"Forensic Science Laboratory, Delhi has fixed March 17 for the recording of a voice sample of Suresh Chavanke. Thereafter his specimen voice recording will be compared with the video/audio downloaded from YouTube…effort is being made to obtain the details of the video of the speech made during the event and uploaded on YouTube, through the process of MLAT," the Delhi Police said in its affidavit t the court.
The establishment of Hindu Rashtra, Z plus security for Bageshwar Dham Sarkar, and the recognition of the Ramcharitmanas as national scripture were all demands made by the Hindu Parliament.
Anand Kumar, a retired IPS officer and the leader of the Rashtra Nirman Party, Ragini Tiwari, Suraj Pal Ammu, Aastha Maa, and Annapurna Bharti are among the speakers.
"We're not demanding anything; we're only asking to remove the country's traitors, those who eat in India but sing praises of Pakistan," said Suraj Pal Ammu.
There was no police action against hate speech and event so far.
Subscribe us on