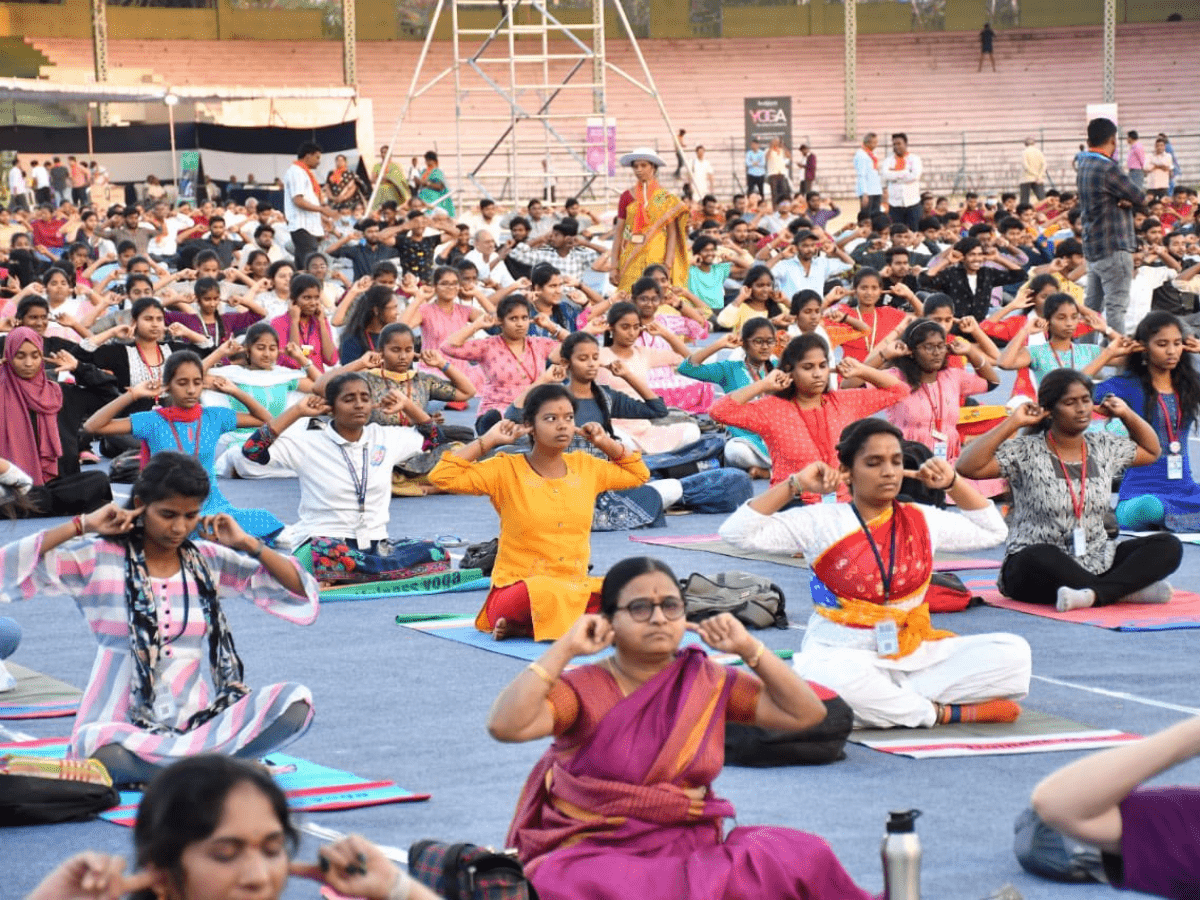 Hyderabad: Over 5,000 people of all age groups participated on day one of the three-day campaign aimed at promoting the benefits of yoga and meditation among youth, corporates, and governmental bodies.
The ministry of culture government of India in collaboration with the government of Telangana has bought the campaign campaign 'Har Dil Dhyan, Har Din Dhyan' to the citizens free of cost.
The three-day event kickstarted on Friday between 5 to 6.30 pm on anxiety and was followed by the day two event at 8 to 10 am on weight management and 5 to 6.30 pm on hypertension.
The programme closes on the third day with a session on diabetes between 8 to 10 am where each Yoga session will be followed by Heartfulness meditation.
The event promoted awareness and benefits of yoga asanas, pranayama, mudras, and meditation, especially among youth, and corporate and governmental bodies.
Telangana Minister of Tourism and Culture, Srinivas Goud and Pullela Gopichand – ace badminton coach, launched the yoga festival that attracted more than 10,000 participants, and many more join virtually on Friday.
This is the first leg of Yog Mahotsav by Heartfulness in its 75 Yog Mahotsav series across the country, along with 7,500 Dhyan Shivirs as part of various schools, colleges, corporates, villages, and ashrams of the Shri Ram Chandra Mission.
The 75 series of the yoga fest which also coincides with the 75 years of India's Independence Azadi ka Amrit Mahotsav celebrations across the country has four themes, including anxiety, weight management, hypertension, and diabetes dedicated to each day, respectively.
Chairs are being provided for the elderly or those physically disabled.
Srinivas Goud while speaking at the event said, "It gives me immense happiness to see such a large turnout at Yog Mahotsav. Anxiety is one of the most prevalent conditions among people today. One must learn to be in control of one's thoughts, and actions which is aided very well by yoga and meditation."
Kamlesh Patel 'Daaji', Guide of Heartfulness Meditation Worldwide, said, "When we talk about balance in life, the balance also has to begin from within."
"It's not always about work-life balance and so on. It must be about the balance within. Both spiritual and materialistic aspects must be balanced. This knowledge comes from yoga and meditation alone," he added.
Citizens who wish to participate in the event can register themselves online on the website.
Subscribe us on