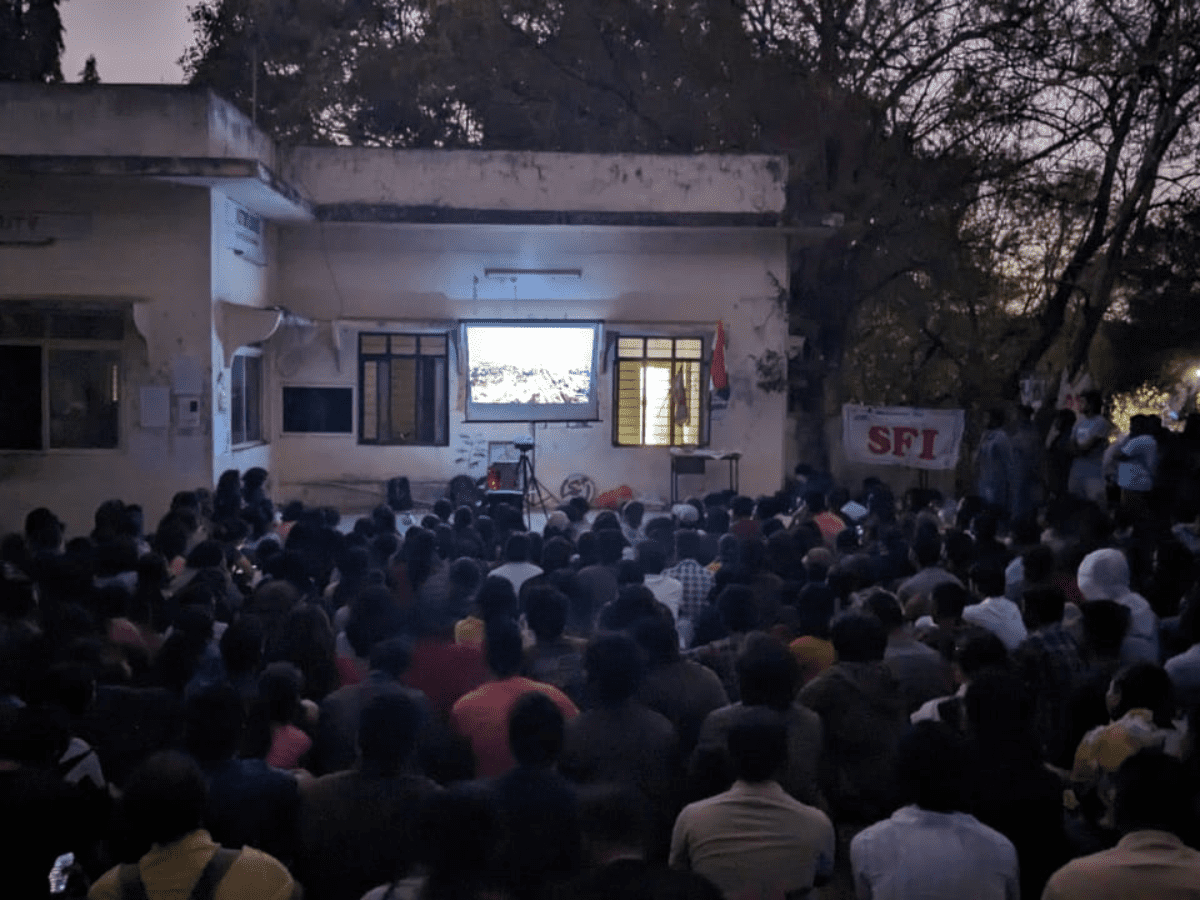 Hyderabad: The Student Federation of India (SFI) of the University of Hyderabad (UoH) screened the two-part banned BBC documentary on Prime Minister Narendra Modi with 500 students in attendance at the campus's North Hostel Gate on Thursday evening.
Speaking to Siasat.com, SFI HCU president Abhishek Nandan said that they plan to show both episodes. He also added that the SFI is not looking for any altercation with the ABVP, who is currently screening The Kashmir Files.
"We do not want to create any ruckus or fight with the ABVP. In fact, we do not want any kind of disturbance. Students want to watch the BBC documentary," Nandan said.
When asked if permission to screen was granted by the university, he said, "Permission is not needed."
ABVP to screen Kashmir Files at UoH
Speaking to Siasat.com, ABVP HCU president Namrutha said that The Kashmir Files is a movie that everyone should watch.
When asked if it was a retaliation move against the recent screening of the banned BBC documentary on Prime Minister Narendra Modi which showcases his role in the 2002 Gujarat riots when he was the state's chief minister, Namrutha deflected the question.
"It is a good movie. Moreover, students were asking us to screen some movie and since it is Republic Day, an important day in Indian history, we thought why not. The Kashmir Files is an important movie and we think everyone should watch it," she said.
Earlier, a video emerged on Twitter where ABVP members are seen conducting a sit-in and shouting slogans to ban BBC.
What is the BBC documentary on Modi?
The new two-part documentary series of the BBC (British Broadcasting Corporation) 'India: The Modi Question' focuses on the 2002 Gujarat riots that killed thousands and left millions homeless, especially in the Muslim community, and the role played by the then chief minister Narendra Modi's government.
The documentary which is aired only in the United Kingdom looks at the escalating tension between the Muslim community and the Bharatiya Janata Party (BJP) as well as Hindu right-wing organisations – Vishwa Hindu Parishad (VHP) and the Rashtriya Swayamsevak Sangh (RSS).
It states that "Modi is directly responsible" for the riots that killed millions of people and displaced many, mostly Muslims. It also said the "violence was politically motivated" and the aim "was to purge Muslims from Hindu areas". The riots were impossible "without the climate of impunity created by the state government."
Subscribe us on