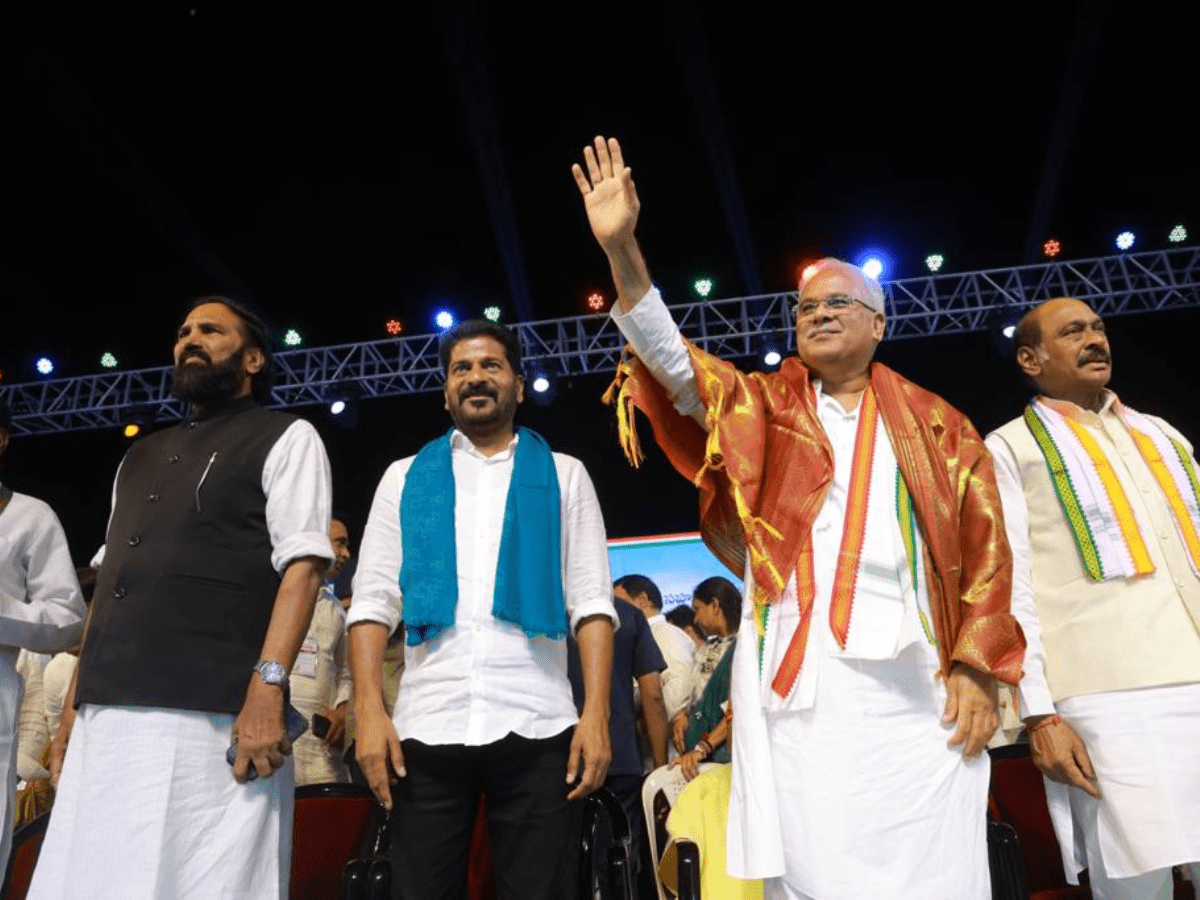 Hyderabad: Congress implements programmes to empower the poor in contrast to the BJP's 'Gujarat model' benefitting crony capitalists and the BRS model of 'family rule' in Telangana, Chhattisgarh Chief Minister Bhupesh Baghel said on Thursday.
Addressing a public meeting at Karimnagar in Telangana organised as part of 'Haath se Haath Jodo' padayatra undertaken by Telangana Pradesh Congress Committee (TPCC) President and party MP A Revanth Reddy, Baghel alleged that both the Telangana government and the BJP-led Centre were indulging in "loot".
While employment was supposed to have been provided to the unemployed youth in the state, several family members of Telangana Chief Minister K Chandrashekhar Rao have got posts in the government after BRS came to power in the state, he said.
Addressing the gathering, he said: "You (people) asked for Telangana (statehood) and you got Telangana. But did farmers get price (for their produce). Did youth get jobs? Has unemployment gone?"
"Only one family got out of unemployment — of KCR (as the Telangana Chief Minister is known as). Who is K T Rama Rao (KCR's son), he also got employment. Who is Harish Rao (KCR's nephew)? He also got employment. And who is Kavitha ji (KCR's daughter). It means only one family has got employment and he gave all jobs to his family," Baghel said ridiculing the Chief Minister's family.
Referring to party leader Rahul Gandhi's accusation against Prime Minister Narendra Modi benefitting a "few friends" at the cost of people of the country, Baghel described it as the 'Gujarat model'.
The 'Telangana model' benefits only one family, he alleged.
Modi, after coming to power in 2014, had said Gujarat model will be implemented in the country, Baghel said.
"Did you benefit from Gujarat model? No. You have also seen BRS model which gave employment to one family. But Congress always strengthens common people," he claimed adding on the other hand, the Congress always works for empowering the poor.
He cited the examples of the previous UPA government at the Centre providing the right to education, right to food, right to work, and right to information.
Baghel spoke on the 'Chhattisgarh model' of waiving farmers' loan soon after Congress assumed power in that state and also highlighted the several schemes launched there, including for farmers.
His government has announced unemployment allowance in the recent budget, he said.
Congress alone can fulfill the objectives for which Telangana was formed and the people should support the party in the next assembly elections, he said.
Congress general secretary Jairam Ramesh said the 'Bharat Jodo Yatra' led by Rahul Gandhi gave a 'booster dose' to the party.
Now, there is a need for a third yatra, after 'Bharat Jodo Yatra' and 'Haath se Haath Jodo' yatra, with the message of 'KCR Harao, Telangana Bachao' (Defeat KCR and Save Telangana) yatra in the state, he said.
If Telangana has to be saved, then KCR has to be defeated, Ramesh added.
In the last nine years, Telangana has been witness to politics of betrayal, corruption and dictatorship, he alleged.
Describing KCR as the 'eighth Nizam', Ramesh alleged there is no difference between BJP and the BRS.
Senior Congress leader and in-charge of Congress affairs in Telangana Manikrao Thakre, party MP Uttam Kumar Reddy were among those who spoke at the meeting.
Subscribe us on