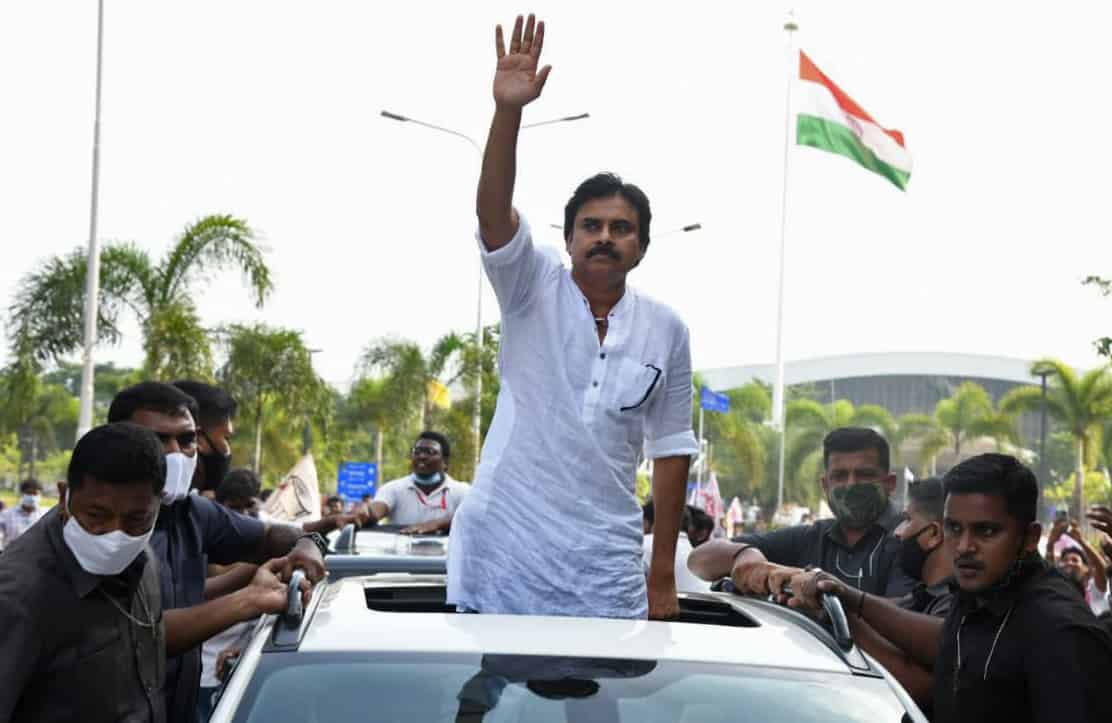 Hyderabad: Telugu actor and Jana Sena Party (JSP) founder Pawan Kalyan may be on a mission to unseat Andhra Pradesh Chief Minister Y.S. Jagan Mohan Reddy in the 2024 assembly polls, but eyebrows were raised in some quarters recently when the brand new election vehicle he purchased was registered in Telangana and its first puja ceremonies conducted a temple in the state.
Although he enjoys popularity among the general public in Telangana, Pawan Kalyan had thus far stayed away from state politics and it was expected that he would focus on Andhra Pradesh politics. However, his recent statements indicate that Pawan Kalyan is seriously contemplating entering the 2023 assembly polls in Telangana too.
Addressing his party leaders at a meeting after the puja ceremonies for his newly acquired state-of-the-art, customised campaign vehicle 'Varahi', Pawan Kalyan made it clear that the JSP would contest anywhere between 7 to 14 assembly seats out of the 119 seats in Telangana assembly.
He is also open-minded about poll alliances in the run-up to the polls. "We are open to pre-poll agreements with other political parties, including the BJP, if such electoral pacts serve the interests of the Telangana people, and do not compromise our party objectives," Pawan Kalyan has said.
The JSP moves in Telangana along with the prospects of an alliance are electoral understanding expected to help the TDP which has also begun preparing earnestly for the assembly polls here. Party insiders feel that tying up with the JSP will help the TDP win more seats than it did in the 2018 polls.
The tie-up could be a spin-off of the recent bonhomie between the TDP supremo Chandrababu Naidu and Pawan Kalyan. The two have been taking on Andhra Pradesh chief minister Y.S. Jagan Mohan Reddy and his ruling YSRCP over several issues.
Although his fledgeling party did not contest the 2014 Andhra Pradesh assembly polls, Pawan Kalyan's support to the TDP-BJP combine played a crucial role in its victory. The alliance broke up subsequently and all three parties fought separately in the 2019 polls, paving the way for Y.S. Jagan Mohan Reddy and his YSRC Party to storm to power in Andhra Pradesh.
Observers feel that with Telangana assembly polls slated ahead of the Andhra Pradesh polls, the results of a potential tie-up between the JSP and the TDP in Telangana could well have a bearing on the pre-poll adjustments in the neighbouring Telugu state too.
Subscribe us on