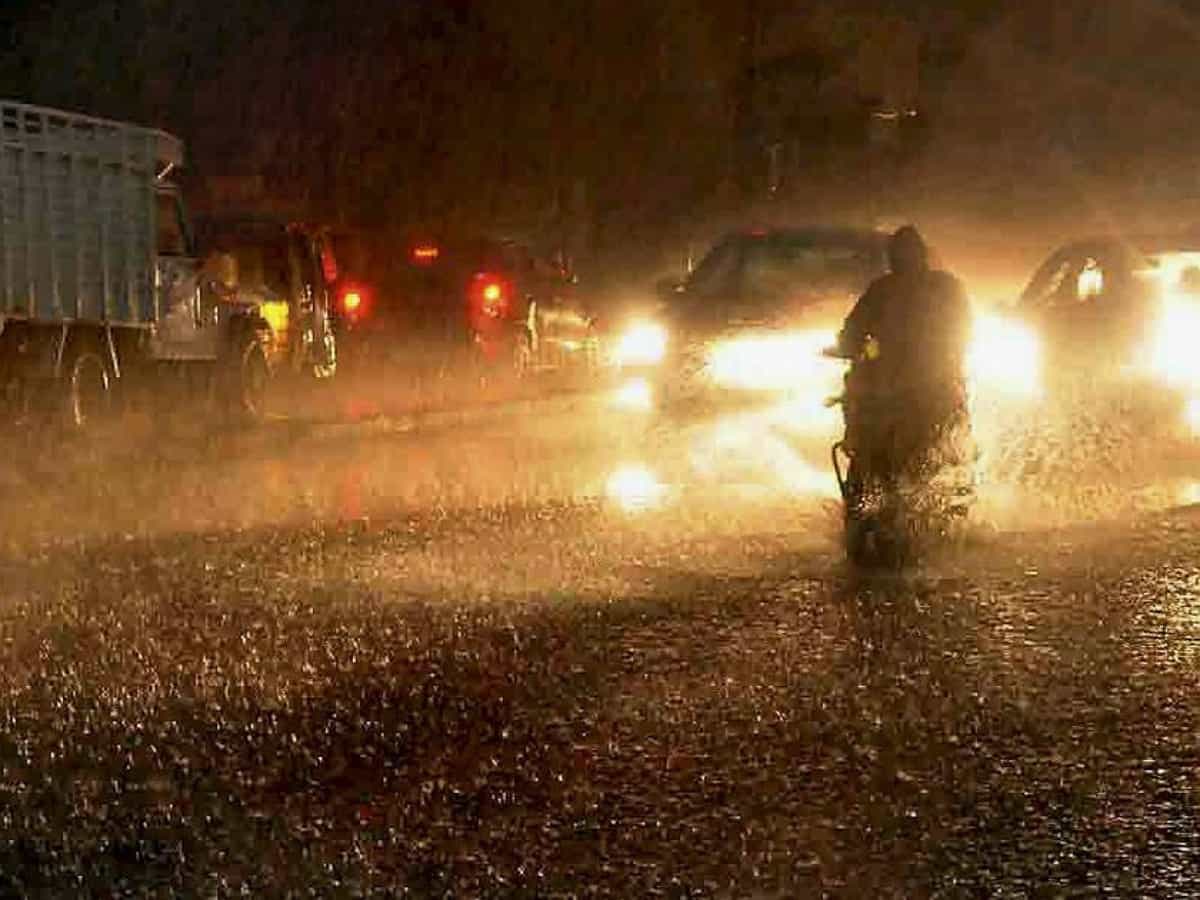 Hyderabad: Rains in Hyderabad brought relief from weeks of summer heat. The downpour affected several areas and brought down the maximum temperature significantly.
Earlier, India Meteorological Department (IMD) Hyderabad predicted lightning, hailstorms, and gusty winds in the city.
As per the forecast, the maximum temperature in the city will remain low for the next few days. Shamshabad, Rajendranagar, Balapur, Nadergul, Saroornagar, Malakpet, LB Nagar, and Hayathnagar will get heavier rains today.
Meanwhile, many districts including Vikharabad witnessed hailstones today.
Rains in Hyderabad to continue tomorrow
According to the forecast made by IMD Hyderabad, the rains in the city will continue tomorrow.
As per the weather department, all six zones in Hyderabad– Charminar, Khairatabad, Kukatpally, LB Nagar, Secunderabad, and Serilingampally – are expected to have a generally cloudy sky for the next few days. Light to moderate rains or thundershowers are expected to continue tomorrow.
IMD Hyderabad issued orange alert for entire Telangana
The IMD has issued an orange alert for the entire Telangana region for today and tomorrow, indicating that heavy rains are likely in the state.
The weather department also issued a yellow alert for the state till March 20.
Even the Telangana State Development Planning Society (TSDPS) also forecasted light to moderate rains and thunderstorms at many places in the state including Hyderabad.
It also forecasted that the maximum temperature in the state is likely to fall to as low as 27 degrees Celsius. In Hyderabad, all circles are likely to see a significant dip in maximum temperature for the next few days.
In view of the forecast made by both IMD Hyderabad and TSDPS, residents are advised to take necessary precautions and plan their travel accordingly.
Subscribe us on