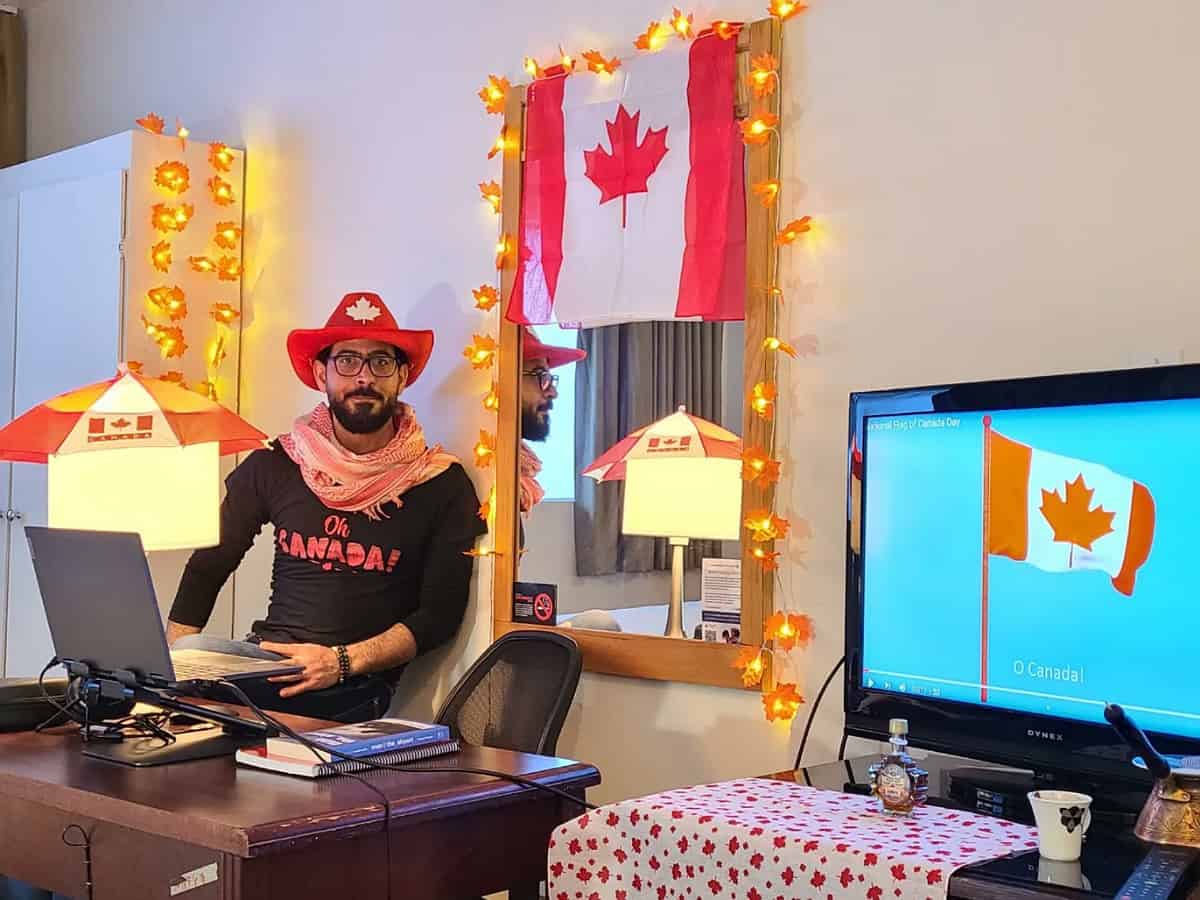 A 41-year-old Syrian refugee who lived in a Malaysian airport for seven months has become a Canadian citizen on Wednesday.
Hassan Al Kontar from Dama, Syria, made headlines in 2018, when he was stranded and stuck at Kuala Lumpur International Airport in Malaysia for about seven months.
On January 11, 2023, after years of waiting, his situation was resolved
Kontar, who known as The Airport Man, took to Twitter and posted photos of himself holding the Canadian flag while wearing Caanada-themed hat and t-shirt.
"This is a day that cost me a father, a destroyed homeland, prison, persecution, tears, blood, and fifteen years of being away from my loved ones," Al Kontar tweeted.
"Wishing the same for every refugee in refugee camps."
"Today is a day like no other," Al Kontar addedd.
Syrian refugee Hassan Al Kontar
Hassan Al Kontar, story began when emigrated from Syria to the United Arab Emirates (UAE) in 2006, to work as an insurance marketing agent.
While in the UAE, Al Kontar's work permit expired in 2011, the year the Syrian civil war broke out. Due to the fact that his request to renew his Syrian passport was denied by the Syrian embassy, he stayed illegally in the UAE out of the fear that he would be drafted into the Syrian armed forces at the height of the war.
As per media reports, in 2017, Al Kontar obtained a new Syrian passport valid for two years, but he was arrested by Emirati authorities and subsequently deported to Malaysia, one of the few countries in the world that allows entry for Syrians without a visa on arrival, and he was granted a three-month tourist visa.
When that was over, he tried to go to Turkey, but was denied boarding and went to Cambodia, but was turned back. Since March 2018, he has lived in the arrivals area of ​​a Malaysian airport. He lived on food donated by airline employees.
He began chronicling his life at the local airport terminal 2 transfer lounge on social media. His publications garnered international attention and highlighted the plight facing Syrian refugees.
In October 2018, Al Kontar took to Twitter and wrote, "In hard times, you will descover that what you become during the process is more important than the aim it self. You knew it was hard but you did it hard. My life journey in photos …"
Al Kontar was detained by Malaysian authorities seven months later— October 2018, before Canadian sponsors intervened.
The clips, which he published, made him famous on the international level, and attracted the attention of 3 Canadians who came to his aid.
He has now moved to Canada's westernmost province of British Columbia, the Canadian Broadcasting Corporation.
Since arriving in Canada, Al Kontar has written a book about his journey, titled Man in the Airport— How Social Media Saved My Life – One Syrian's Story. He also worked with the Canadian Red Cross, while still advocating for refugees around the world.
Subscribe us on