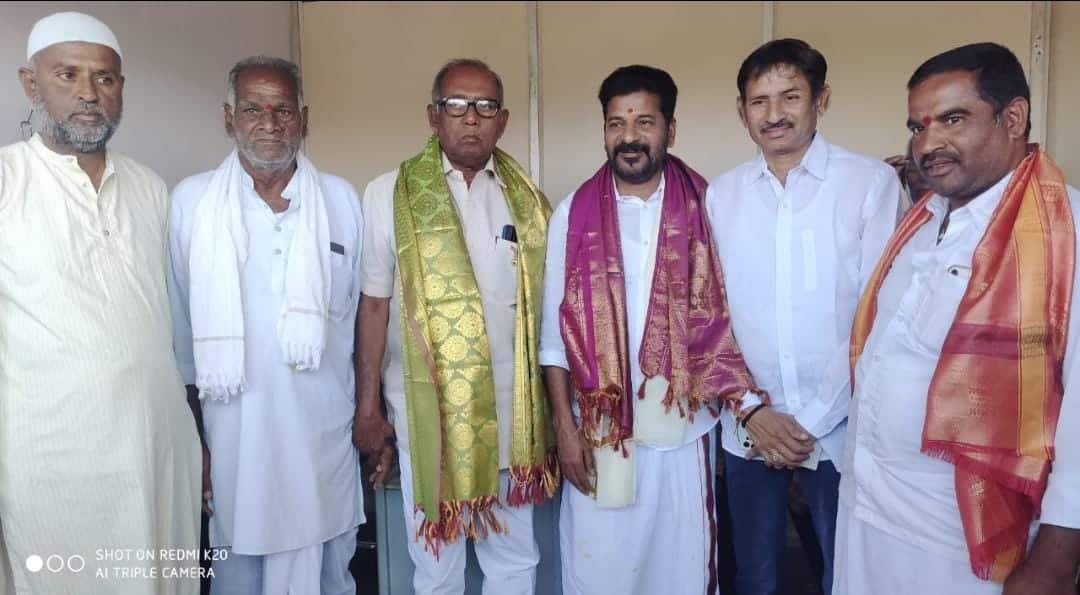 Hyderabad: Former MLA and Bharat Rashtra Samithi (BRS) leader R Gurunath Reddy and two senior leaders joined the Congress party on Friday.
According to a press release from the Congress, Kodangal Municipal Chairman Jagadishwar Reddy, and MPP Muddappa are the two senior leaders.
Gurunath Reddy has served as MLA seven times and is the undisputed leader in Kodangal. He played a key role in the victory of the Bharat Rashtra Samithi MLA in the last election.
The members had a meeting with Telangana Pradesh Congress Committee chief Revanth Reddy, where they discussed his padayatra.
Revanth Reddy began his walk from Madanapalli village of Bomraspet Mandal in Vikarabad district after the formal launch of the 'Haath Se Haath Jodo Abhiyan' by the Congress on Thursday.
After offering his prayers at Hanuman's temple in the village Bomraspet which comes under his native constituency Kodangal, Revanth started his march.
Revanth interacted with farmers working in the groundnut field pausing the yatra on his way from Madanapalli to Dudyala.
He enquired about the challenges they face and their opinions on the input costs and the price being offered in the market.
"Congress leaders and workers will tour the villages for 60 days, taking the message of party MP Rahul Gandhi to every doorstep in the state", said Revanth.
The chief further added, "Freedom is facing an existential threat and democracy is heading towards a dangerous path. It feels like the rule of the Nizams and Britishers. Both the state and the Centre are spreading a poisonous culture by treating Telangana and the entire country as a laboratory for their immoral politics."
"We need to save the Constitution by exposing the failures of the Centre and the state government in the past nine years," urged Revanth.
Revanth while talking with reporters at the Gandhi Bhavan on Thursday, opined that BJP MLA Eatala Rajender was a victim who fell into the 'venomous' trap laid by chief minister KCR, claiming that he is being used by the KCR.
Revanth Reddy was accompanied by the chairman, AICC Pawan Khera as he walked along the public.
Subscribe us on