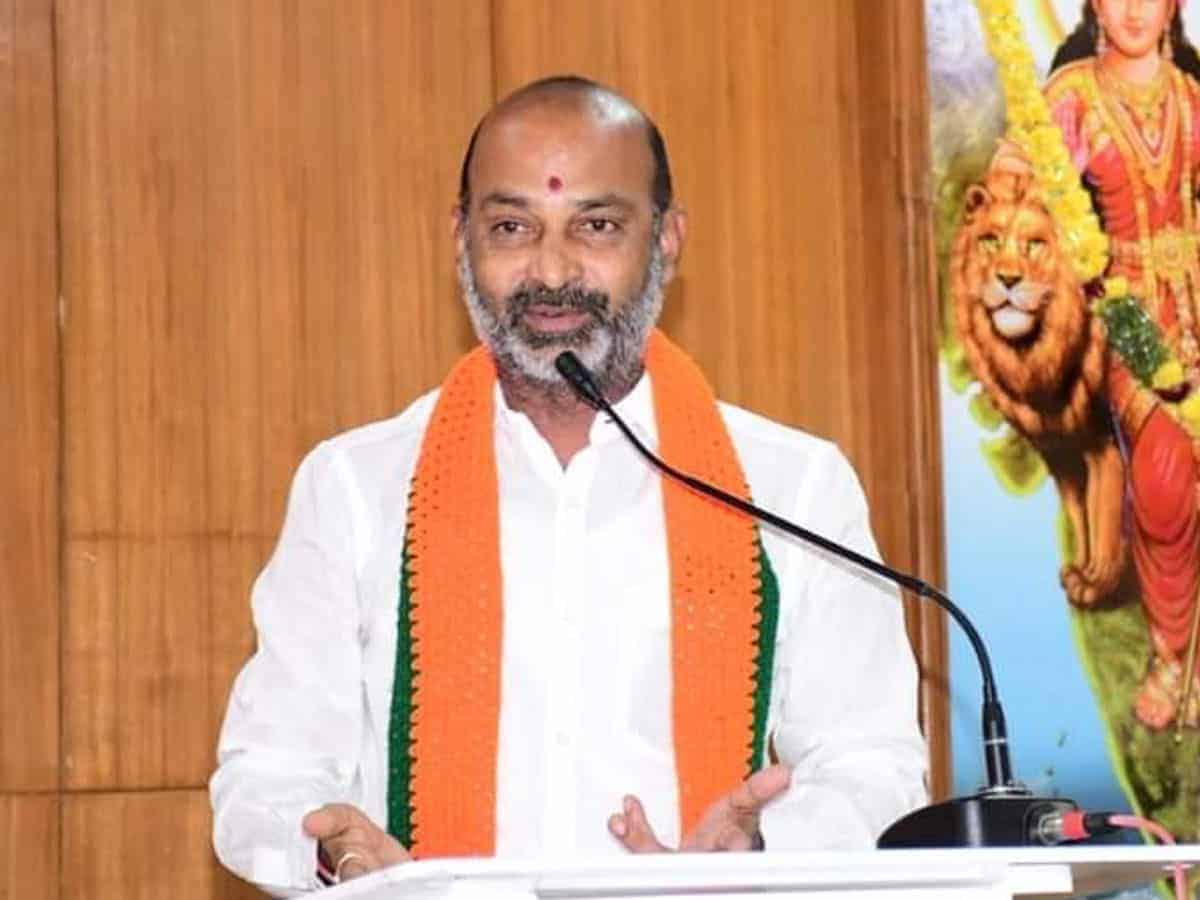 Hyderabad: Telangana Bharatiya Janata Party president Bandi Sanjay Kumar on Sunday described the public meeting of Telangana Chief Minister K Chandrasekhar Rao (KCR) at Maharashtra's Nanded as a damp squib.
"The so-called national meeting of KCR was a mega flop. The people of Maharashtra cared a damn for the rally, though 30 MLAs, two ministers and two MPs had camped in Nanded for the last 25 days. Finally, they managed the show by mobilising people from the bordering Telangana districts by paying them Rs 500 each," Sanjay said in a statement in the evening.
He said though the BRS had given a huge hype to the meeting saying that top leaders of Maharashtra would join the party, it turned out to be a flop show. Most of those who joined the party were outdated leaders who cannot poll even 10 votes in their respective villages. "That KCR himself appeared irritated for being made to wait holding the pink stoles itself was an indication to the fate of the BRS in Maharashtra," he said.
Referring to KCR's promises made at the meeting, Sanjay said they all were non-starters. "The chief minister promised to provide 33 percent quota for women in the legislatures. This is just a hollow promise. He did not have a woman cabinet minister for five years and has so far not nominated the chairperson of women's commission. Not a single woman was given any nominated post. There is not a single woman Rajya Sabha member representing TRS. He should have mentioned all these points at the Nanded meeting," he said.
On KCR's reference to the farmers' suicides in Maharashtra, the BJP leader said it was like devils quoting scriptures. Compared to Telangana, Maharashtra's population is three times more. In terms of farmers' suicides, Telangana stands fourth in the country.
"Despite being in power for two terms, KCR has failed to stop farmers' suicides in the state and more so, in his own Gajwel constituency," he criticised.
Sanjay reiterated that the state government had done away with all subsidies in the name of implementing Rythu Bandhu scheme for farmers. It has not been implementing the Central government's Fasal Bima Yojana, he said.
He also described KCR's tall claim of giving round-the-clock power supply to agriculture as a big joke. "In the Telangana districts bordering Nanded, farmers are agitating for at least eight hours power supply and protesting against collection of additional consumption deposits," he pointed out.
Sanjay also found fault with KCR for making lofty statements on irrigation, drinking water supply, power and road infrastructure, as if he was a great intellectual. "It is just an empty rhetoric, as he has failed to implement them in his own state," he said.
On KCR's statement that he would nationalise all privatised enterprises if BRS was voted to power, the BJP president recalled that the chief minister had failed to revive the closed units like Nizam Sugar Factory and AP Rayons. "Who will believe his empty talk?" he asked.
Sanjay claimed that Maharashtra had been far ahead of Telangana in several aspects like construction of housing for the poor, implementation of Ayushman Bharat, payment of compensation to the farmers for the crop loss, industrial growth etc. "Telangana, however, is NO. 1 in liquor sales, high diesel and petrol rates," he criticised.
Coming down heavily on KCR for invoking Shivaji's name to promote the BRS, the BJP leader said while Shivaji had established a true Hindu rajya, KCR had mortgaged the state with the Nizam's successors and Razakars. He alleged that KCR and his family members had shown more interest in making money through scams; yet, are giving call for a people's movement on the lines of Jayaprakash Narayan.
"The people are laughing at your talk. It is certain that they will bury the BRS deep in the soil in the next elections," he added.
Subscribe us on