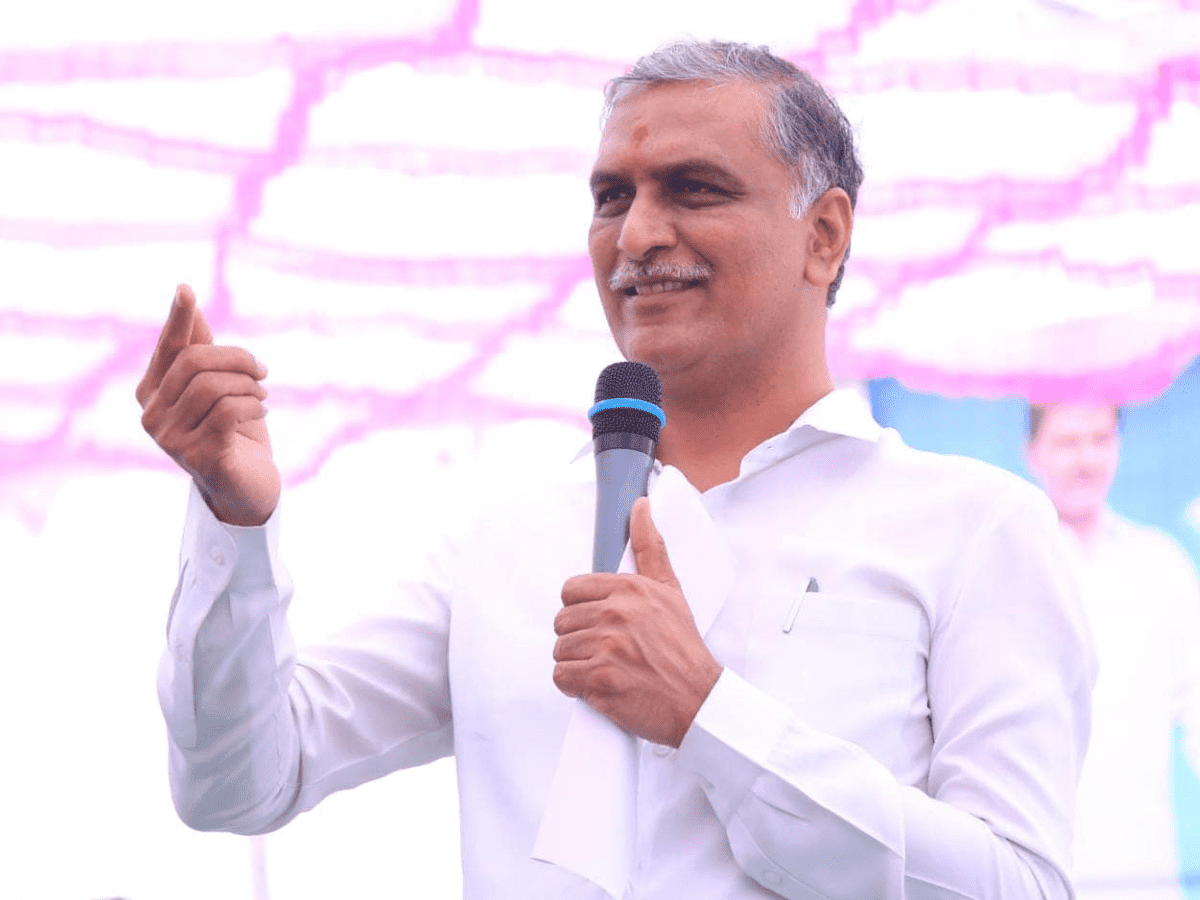 Hyderabad: The subject of 'national status' to the Kaleshwaram project led to a fierce battle between Telangana finance minister T Harish Rao and union minister Bishweswar Tudu on Friday.
Bisweshwar Tudu in response to Mahabubnagar MP Manne Srinivas Reddy's query on the subject told the Lok Sabha that the Telangana government had not submitted any proposal to the Centre to include the Kaleshwaram or Palamuru Rangareddy projects in the National Project scheme.
Harish Rao, as a response, called the minister's words 'false propaganda' and stated that the minister was misleading the Parliament and the people of the state.
On Twitter, Harish Rao produced letters written by chief minister K Chandrashekhar Rao to Prime Minister Narendra Modi and the state government's letters to the Ministry of Water Resources in the past seeking national status for the Kaleshwaram project.
'"False propaganda by the BJP party's Union Minister that Telangana Govt has not submitted proposal for National Project status to Kaleshwaram Project. Hon'ble CM KCR Garu & me as Irrigation Minister made several representations to @PMOIndia and Minister of Water Resources for National status to Kaleshwaram.
As quoted by BJP Minister Shri @Bishweswar_Tudu ji on the floor of parliament is blatant lie and misleading the house and the people as well. Kaleshwaram project has accorded all Clearances from CWC and also got approval from Technical advisory committee of Ministry of Jal Shakti. Thereafter #CMKCR Garu requested PM Narendra Modi to accord National status to Kaleshwaram Project. But no action has been initiated by GoI," he said in a series of tweets.
Harish Rao said that the former Minister for Water Resource, Nitin Gadkari, to questions raised by BRS MPs in the Parliament in 2018, replied that GoI has no plans to accord national project status to any project in the future.
"When BRS MP's had raised issue of national project status to Kaleshwaram in 2018 Parliament sessions, Former Minister for Water Resource Sri Nitin Gadkari ji replied that GoI has no plans to accord national project status to any project in future.
Contrary to his statement GoI accorded National project status to Upper Bhadra Project of Karnataka and Ken-Betwa project of MP as both are BJP ruled states. But the request of TS Govt was denied.
It is nothing but political vengenance of Center Govt led by BJP on Telangana," he said in another tweet.
The minister further said that the Upper Bhadra project in Karnataka, which is a BJP-ruled state got the national status in spite of the subject being subjudice in the Supreme Court.
"CWC accorded approval to the Upper Bhadra Project of Karnataka, a BJP ruled State when KWDT II award was stayed by SC in 2013. CWC accorded clearances to Upper Bhadra Project and GoI also accorded NP status for a project when the whole matter was subjudice
For Kaleshwaram everything is clear but no NP status accorded inspite of repeated requests by TS. Is it not political vengenance?
Subscribe us on