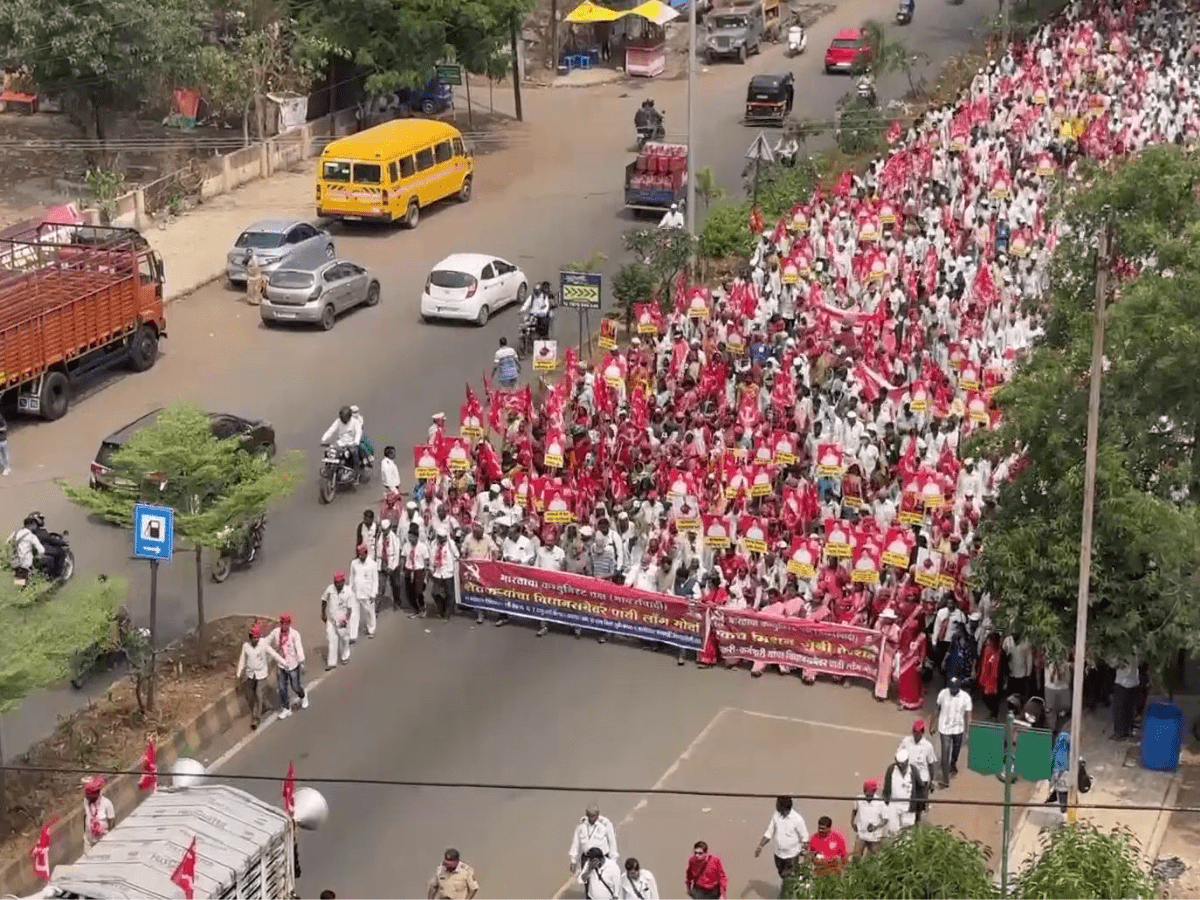 Mumbai: Maharashtra farmers continued their 175 km foot march to Mumbai for the second day on Tuesday even as the government said it would hold talks with a leaders' delegation on Wednesday.
The farmers' stir is spearheaded by the All India Kisan Sabha (AIKS) and comprises over 10,000 peasants walking in the blistering heat with banners, placards, posters and raising slogans en route.
En route, the marchers were enthusiastically welcomed in various villages by the locals, offered food and water, and people expressed their support for the cause as they walked past.
Chief Minister Eknath Shinde and Deputy CM Devendra Fadnavis were slated to meet the farmers' leaders on Tuesday, but the meeting was put off owing to the strike launched by state government employees demanding a return to the Old Pension Scheme (OPS).
"We were informed that the meeting has been cancelled, but no reasons were given… Our march continues as usual," AIKS Maharashtra General Secretary Dr Ajit Nawale told the media.
Slamming Shinde's offer of giving an ex-gratia of Rs 300/quintal for onion growers, he said it was too meager and the amount should be hiked to at least Rs 600/quintal, failing which the agitation would intensify.
"Unless the government talks to us, we may be compelled to block the Mumbai-Gujarat Highway, only then they will listen," Nawale said.
Leader of Opposition Ajit Pawar and other Maha Vikas Aghadi (MVA) leaders have raised the matter in the Assembly and have rooted for the distressed farmers' cause.
Congress state President Nana Patole, NCP state President Jayant Patil, Shiv Sena-UBT leaders like Bhaskar Jadhav and others have demanded that the government should give between Rs 500-Rs 700/quintal to the farmers reeling under a crisis owing to fallen prices.
From the government side, Nashik Guardian Minister Dada Bhuse said that at the Wednesday meeting, the CM and Deputy CM as well as concerned department secretaries shall be present to discuss the issues and resolve the farmers' problems.
He expressed confidence that all the positive demands would be heard out and the needful would be done for the farmers.
On Sunday, the AIKS released its 17-point charter of demands which includes compensation for onion growers and MSP of Rs 2000/quintal from the next season, better prices for other crops like cotton, soybean, tur, green gram, milk, and related issues of ASHA workers, etc.
This is the third "long march" by farmers in the past five years – the first one was in 2018, later in 2019, and again this year.
For the third time in five years, thousands of farmers are again on the road to Mumbai for their various demands that remain pending since long, braving the intense summer heat.
It has come after similar marches in 2018 and 2019 – and will traverse around 175 kms – attracting farmers from all over the state who converged in Nashik on Sunday.
What are their demands?
Among the demands are an immediate subsidy of Rs 600/quintal and MSP of Rs 2000/quintal from next season for onion growers, writing off of farmers' loans, suitable remuneration for all agriculture produce, power bills waivers, quick compensation for crop losses due to unseasonal rains-hail, forest land rights, etc.
They sought regularisation of encroachers on forest lands up to four hectares with names in the 7/12 documents, waiver of power bills and making electricity available 12 hours daily for farmlands, clear the 7/12 of farmers by waiving off their entire agriculture loans.
They have also demanded NDRF amount of compensation for all crop damages due to unseasonal rains and other natural calamities that hit the agriculturists round the year, quick compensation and curb the "loot" by crop insurance companies, create an independent system for regular inspection of milk meters and weighing forks for milk and a minimum price of Rs 47 for cow milk and Rs 67 for buffalo milk and stop the conspiracy to slash prices of soybean, cotton, tur and grams, re-start selling grain along with free rations on ration cards every month.
Subscribe us on