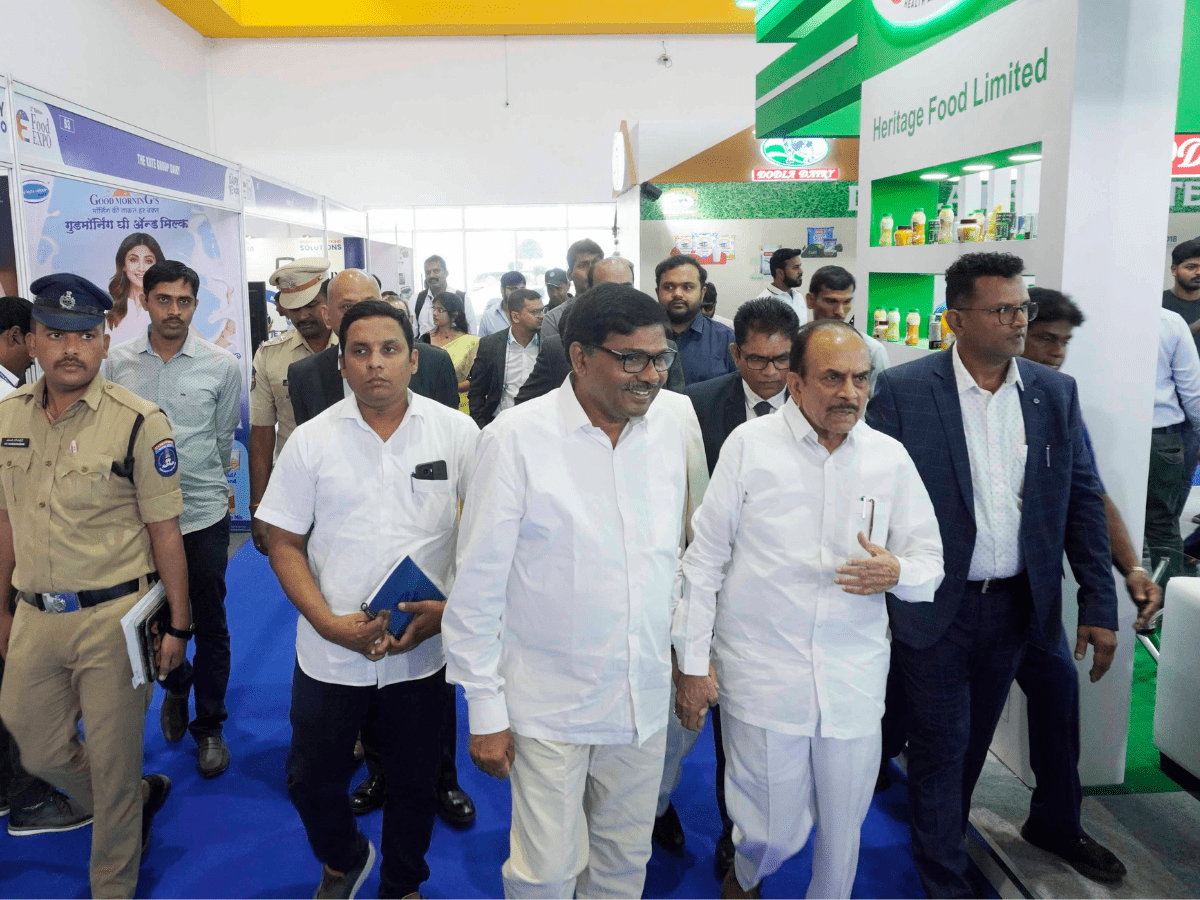 Hyderabad: The twin expo featuring dairy and food products, their processing, and packaging kicked off at Hitex in Madhapur on Friday.
The three-day fair will begin from 10:00 am to 6:00 pm on all three days.
Telangana home minister Mohd Mahmood Ali along with the chairman of Telangana State Dairy Development Cooperative Federation(TSDDCF) inaugurated the expo.
With the participation of over 105 exhibitors, the twin show is expected to be visited by as many as 7500 visitors.
Organized by Media Day Marketing in support of the Federation of Telangana Chambers of Commerce and Industry (FTCCI), the ministry of agriculture government of India, and MSME, this is the second edition of the expo.
It brings the best services, machinery, equipment, technology, products, and services, and allied Industry stakeholders in the dairy sector onto a single platform for their mutual benefit.
Speaking on the inaugural, Mahmood Ali said, "Milk is wholesome food. Everyone needs milk. Milk is consumed across the world for years. Milk is a nutrient-rich fluid. And it is the most commonly consumed drink. An expo on the Dairy and Food industry and machinery is much needed. The industry has a bright future," he said.
Chairman of Telangana State Dairy Development Cooperative, Soma Bharath Kumar, said "Vijaya Dairy which was once speculated to be closed is doing well, achieved Rs 700 crore turnover and aiming for Rs 1000 crore. It is also on an expansion spree. It is adding 2000 more outlets across Telangana. At the moment it has about 1000 outlets. Similarly, it is also expanding its product portfolio."
"Currently, we have 27 products. And we will be adding 100 more products such as Milkshakes, Coffee, Tea, Flavoured Milk, Ice Cream, Kulfi, Cookies, Health Bars etc and others," he added.
Stressing the need to increase milk production in the city, Bharat Kumar said, "Hyderabad needs one crore litre of milk every day. But, the production is somewhere around 60 to 70 lakh. We are also planning to introduce 2 lakh milk-giving animals into the system, which will enable additional production of about 6 to 8 lakh litres."
Speaking about proactive measures the federation embarked on, the chairman said, "the Animal Mobile Medical Ambulances, a hundred in number are available to ensure that emergencies in remote areas are attended to swiftly. A toll-free number "1962" provides connectivity to the ambulance services."
When asked about measures the federation is taking up to stop milk that is produced by using Oxytocin Injections (used to secure higher milk yield from the cows and buffaloes), Bharath Kumar said, "the milk is checked well at the procurement places itself and any sort of adulteration. If any such milk is detected the entire lot is abandoned. Strict checks and balances are in place to discourage such practices."
Some of the exhibitors include Coffee Board of India, Control Print Limited, Dodla Dairy Limited, Eskimo Refrigeration Industries, Fillpack Technology, Godrej Creamline Jersey Products Limited, Goma Engineering Private Limited, Grundfoss Pumps India, Heritage Foods Limited, Hilda Automation, Milky Mist Dairy Food Private Limited, Print Jet Solutions LLP, Refrigeration Warehousing & Trading Company, Rovema India Pvt Ltd, SSP Pvt Ltd, Technofour Electronics Pvt Limited, The Telangana State Dairy Development Cooperative Federation Limited, Varsha Dairy & Food Engineers, VT Corp Pvt Ltd as participants along with allied industries.
Subscribe us on