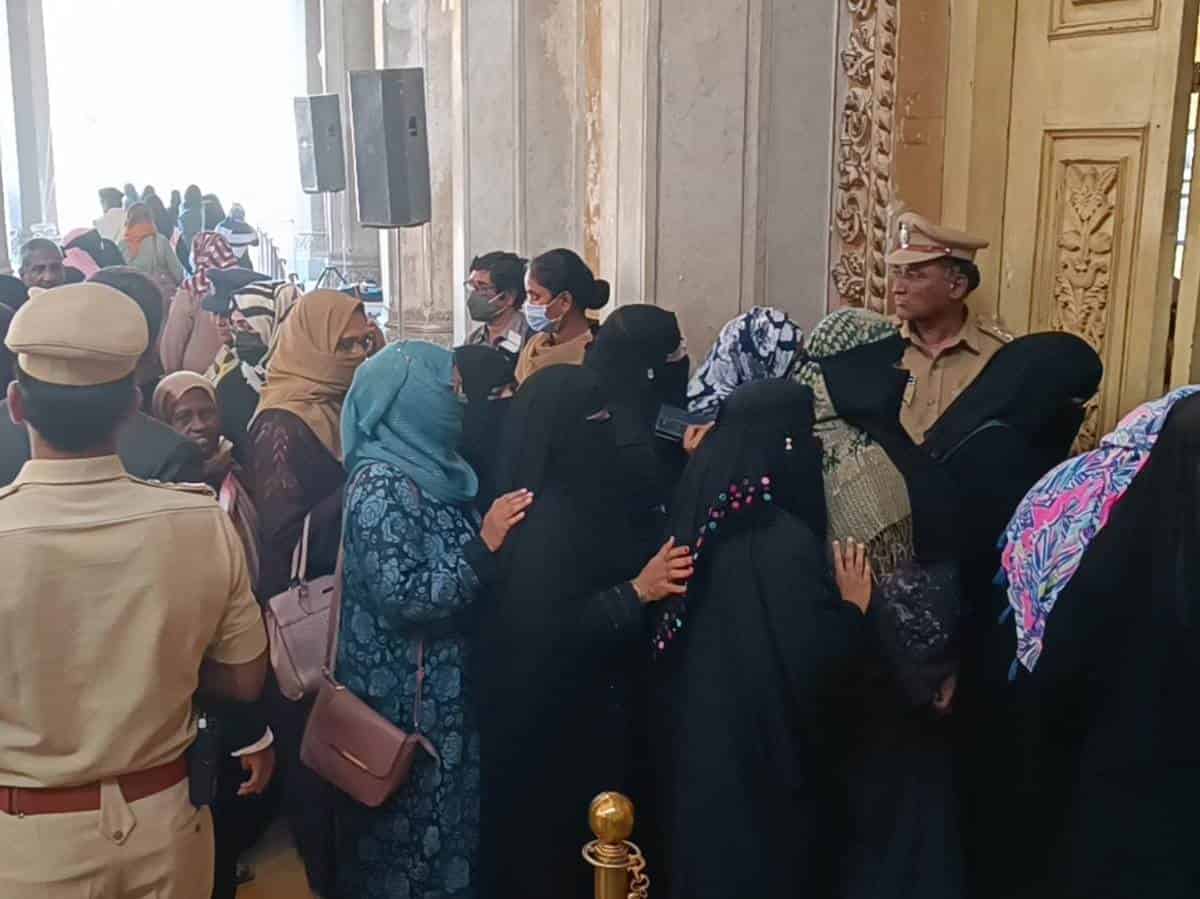 Hyderabad: Thousands of people visited Chowmahalla Palace to pay their last respects to the titular eighth Nizam of Hyderabad Mukarram Jah. Over 10,000 people are believed to have paid their respects so far.
It is unlikely that viewing will be done by 1 pm as the crowd is continuously swelling. Many women and tourists were also seen at the palace.
The mortal remains will be carried to the historic Makkah Masjid from Chowmahalla Palace around 4 p.m. The Chowmahalla Palace Trust is making arrangements to enable the maximum number of people to carry the coffin on their shoulders. After 'Namaz-e-Janaza', Mukarram Jah Bahadur will be laid to rest at Asaf Jahi family tombs in the premises of Makkah Masjid.
Meanwhile, all shops in the surrounding areas are closed.
Mortal remains will be carried to Makkah Masjid
The Telangana government has also already announced that the funeral will be conducted with full police honours. The trust is making arrangements in coordination with the departments concerned.
Mukarram Jah, the grandson of the last Nizam of Hyderabad Mir Osman Ali Khan Bahadur, passed away in Istanbul on January 13 at 10:30 pm. (IST). He was 89 years old.
Born to Prince Azam Jah and Princess Durru Shehvar, the imperial princess of the Ottoman Empire, on October 6, 1933 in France, Mukarram Jah was coronated as Asaf Jah the Eighth on April 6, 1967, after the passing away of Mir Osman Ali Khan in February 1967.
CM paid floral tribute
A day earlier, chief minister K. Chandrasekhar Rao (KCR) paid floral tributes to the mortal remains of the last Nizam at Chowmahalla Palace. He consoled Mukarram Jah's former wife Princess Esra and his children and other family members.
Ministers Mahmood Ali, Vemula Prashant Reddy, MP Joginapally Santosh Kumar, MLAs Balka Suman, A. Jeevan Reddy, Telangana Sports Authority Chairman E.A Anjaneya Goud, former Waqf Board Chairman Mohammad Salim, Advisor to Government, Minority Affairs A. K. Khan and others were present.
Subscribe us on