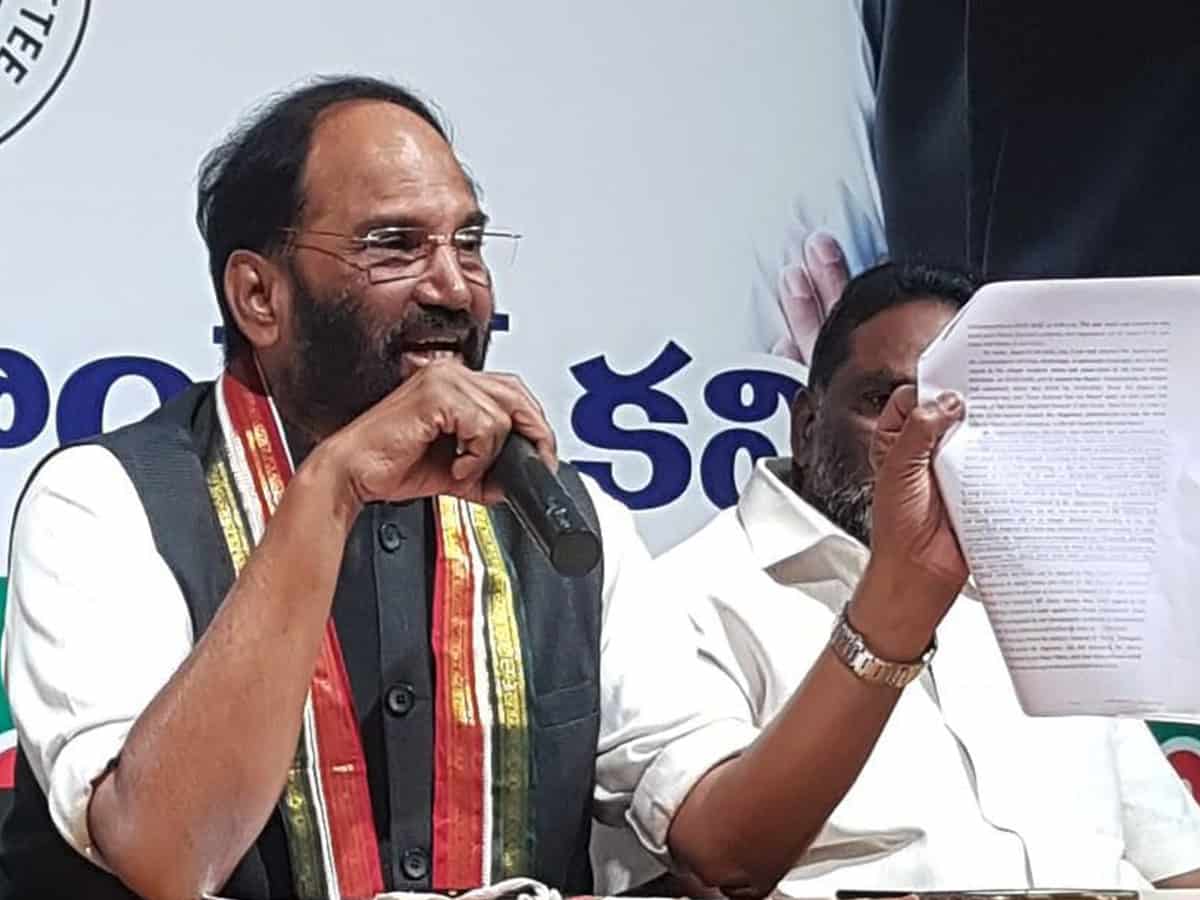 Hyderabad: Congress MP and former Telangana Pradesh Congress Committee (TPCC) President Uttam Kumar Reddy said that the state budget presented by Telangana's finance minister Harish Rao in the Assembly on Monday was 'illusionary' and 'directionless'.
Uttam Kumar Reddy said that the state revenue does not match the proposed expenditure of Rs 2.90 lakh crore which is total "unrealistic".
"First time in history the finance minister's speech had no mention of estimated revenues. He was unable to specify whether the budget was surplus or deficit," he said.
The Congress MP said that there was no uniformity in the allocation of funds and all major sectors remained neglected. For instance, he said that the allocation of the total budget for the health dept was only 4.18 percent. Similarly, Secondary Education got just 5.54 percent while Higher Education got just 1.03 percent.
He said that the state government did not make any provision to clear the pending fee reimbursement and scholarship dues of over Rs 3,200 crores and a meagre Rs 3,001 crores have been allocated for the entire Higher Education Dept. He said there was no mention of the monthly Unemployment Allowance of Rs 3,016 which the KCR government had promised to give to all jobless youth.
Further, he said that an amount of only Rs 17,700 crores was allocated for the Dalit Bandhu scheme. He added that there are nearly 17 lakh poor Dalit families in Telangana and this budget could not cover even 10 percent of those beneficiaries.
He said that a sufficient amount was not allocated for the scheme of sheep distribution and there was no mention of the waiver of crop loans.
Uttam claimed that the chief minister had promised a farm loan waiver of up to Rs 1 lakh to Telangana farmers on December 2 2018. However, he claimed that crop loans up to Rs 35,000 have been cleared in the last four years.
"This was the last budget of the BRS government and it failed to honour these promises. The Congress party had demanded Rs 20,000 crores for the completion of Rs 1 lakh loan waiver for all farmers of Telangana as more than 20 lakh farmers and their families are still waiting for it. However, the finance minister has disappointed the farmers of Telangana," he said.
Uttam Kumar Reddy ridiculed Harish Rao's claims of economic development in Telangana. He said that the finance minister did not mention anything about the debts of over Rs 5 lakh crore on Telangana and the impact of their high interest and repayments on the state's economy.
Uttam alleged that he dedicated his entire speech to praising the chief minister. "Budget speech is considered the most sacred document for any state or country as it gives a detailed account of present economic status and future plans. However, Harish Rao's speech lacked vision and direction. It was no more than a regular political speech delivered in praise of CM KCR," he said.
Subscribe us on