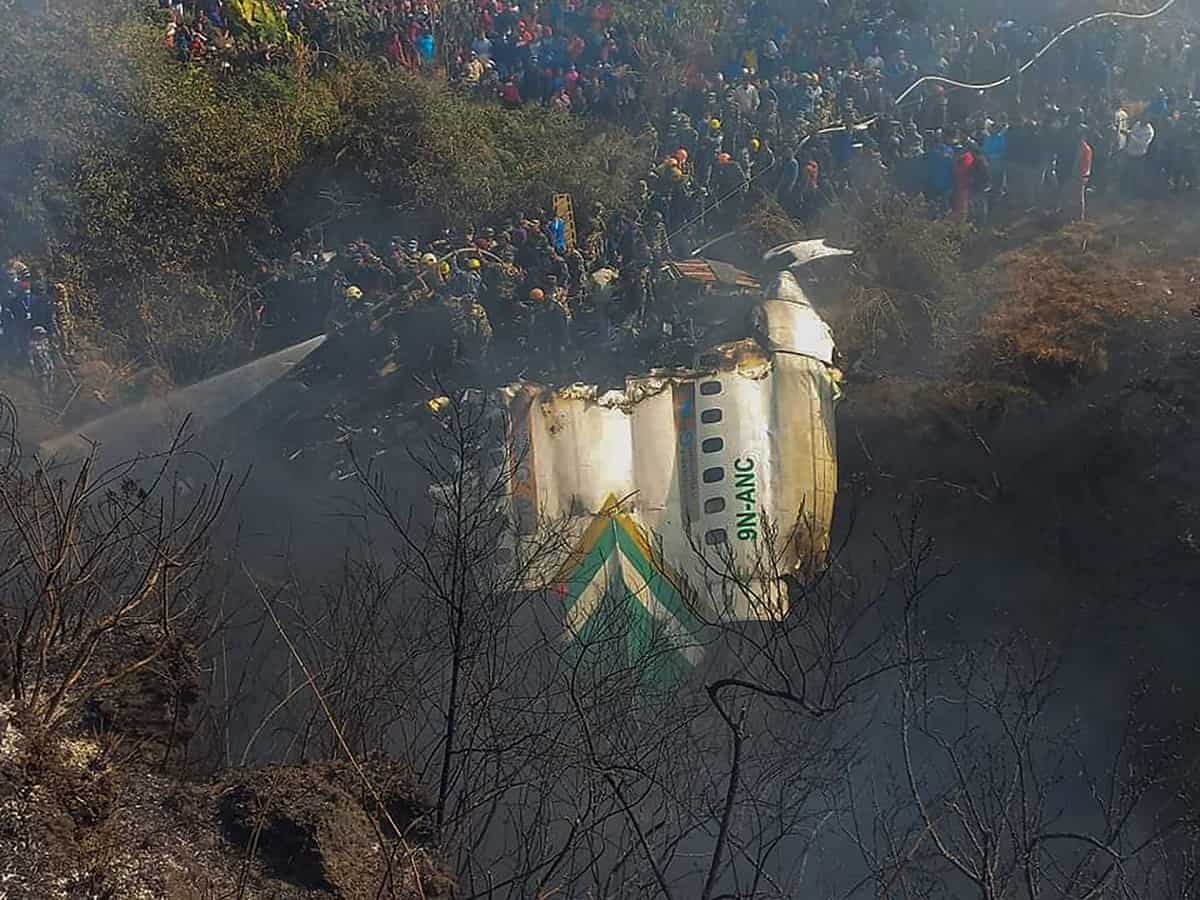 Pathanamthitta: Little did anyone in Pathanamthitta realise that a plane crash in Nepal will leave a family in their quiet pilgrim town completely shattered.
The Yeti airlines that crashed in Pokhara on Saturday was carrying among others, three close friends of a family in Pathanamthitta, about 100 Kilometres from the state capital.
The family members who had already lost a male elder, were now inconsolable as three of their friends from Nepal who had come to attend the funeral, had met with an untimely end.
At least 68 people were killed when the plane crashed into a river gorge while landing at the newly opened airport in the resort city of Pokhara on Sunday in the Himalayan nation's deadliest aviation accident in over 30 years.
The victims Raju, Rabin and Anil had reached Anicadu in Pathanamthitta from Nepal on Friday morning to participate in the funeral of Mathew Philip, an evangelical Christian missionary, with whom they were emotionally connected through faith since his missionary days in the Himalayan nation.
Philip, 76, died on January 11 after battling cancer for two years.
"The funeral was on January 13. Their return flight was from Kochi to Mumbai and from there to Kathmandu. Deepak and Saran could not board the ill-fated flight from Kathmandu but the other three took the flight. The news was a shock to us," Philip's brother Thomas told PTI.
Philip had returned from Nepal two years ago and was undergoing treatment for cancer.
"We were very close to them. They were so dear to my daddy," Philip's daughter told a news channel.
Two of the victims had visited their home at Anikkad in Pathanamthitta on an earlier occasion, she recalled.
Philip's nephew said Anil had sent him a message from Kathmandu, before the ill-fated flight took off from there to Pokhra yesterday.
"Reached safely– that was his last message (from Kathmandu)", he said.
Philip's relatives said they received a call from victim Rabin's father and relatives, consoling them saying, "It was God's scheme."
Yeti Airlines' 9N-ANC ATR-72 aircraft took off from Kathmandu's Tribhuvan International Airport at 10:33 AM and crashed on the bank of the Seti River between the old airport and the new airport, minutes before landing, according to the Civil Aviation Authority of Nepal (CAAN).
A total of 68 passengers and four crew members were on board the aircraft.
Fifteen foreign nationals onboard the plane included five Indians, four Russians, two Koreans, an Australian, a French, an Argentine, and an Israeli.
Subscribe us on