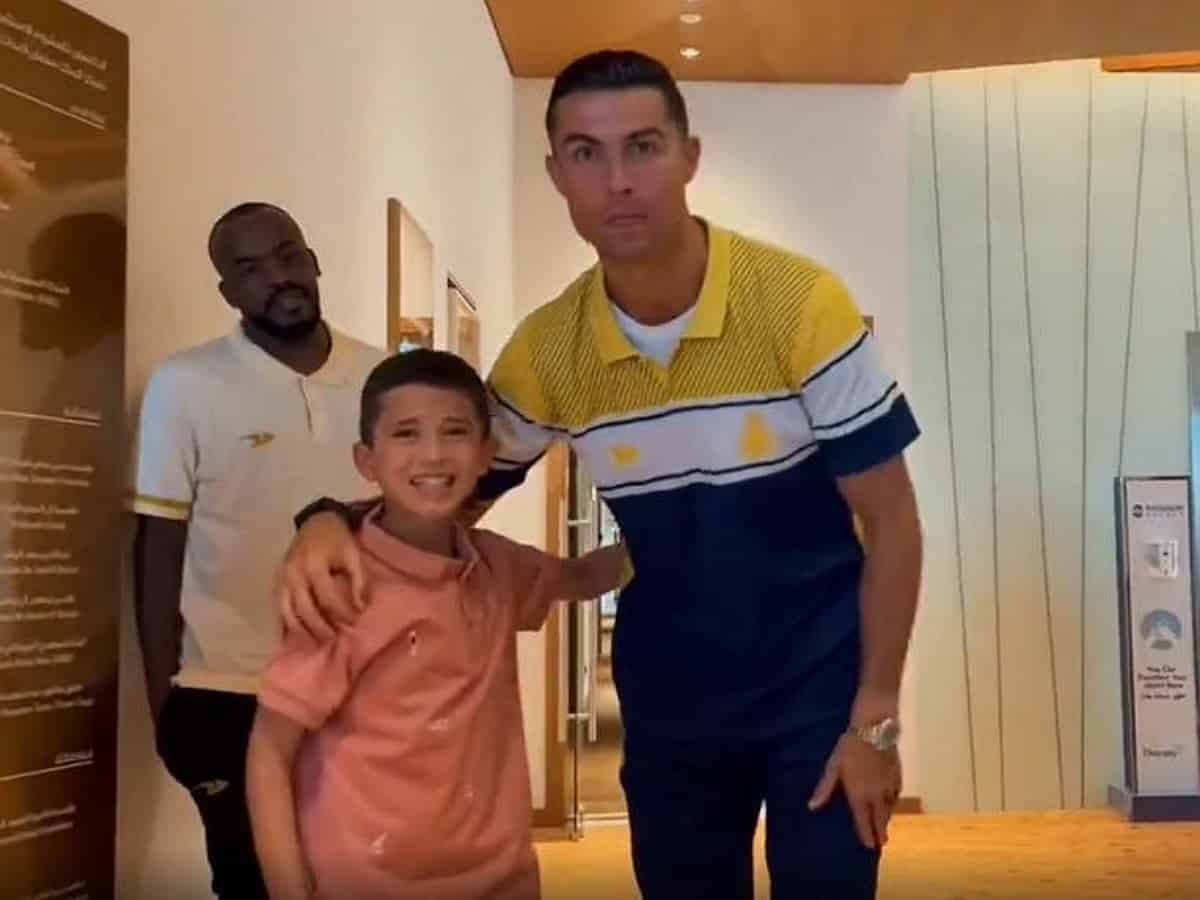 Riyadh: Syrian boy Nabil Saeed finally fulfilled his dream of meeting the star of the Saudi Al-Nassr football club Cristiano Ronaldo at the Al-Nassr club training headquarters in Riyadh.
Nabil travelled from Syria to Saudi Arabia, waited for several days, and finally met Ronaldo on March 3. The little boy expressed his admiration for the football legend. He also took several pictures with Ronaldo.
The head of the General Entertainment Authority in Saudi Arabia, Turki Al-Sheikh, published a video clip of the meeting on his Twitter account
"Your joy is my joy… May God protect my King, His Highness, the inspiring leader, the Crown Prince, the Prime Minister, the honorable Saudi people, and thanks to the great global star," Al-Sheikh tweeted.
Watch the video below
The video has been viewed more than 6.3 million times. The overjoyed 10-year-old can be seen quickly walking towards Ronaldo, shaking his hand and instantly hugging him while saying "I love you". The Portuguese smiles and replies: "You're fine."
Nabil said in the video, "My dream was to see Ronaldo, and today it came true. I love Cristiano because he knows how to play football, and I wish to play like him and train in the Saudi victory."
Nabil later watched and cheered as Ronaldo helped Al-Nassr beat Al-Batin 3-1, a win that came with three goals in stoppage time.
In another video clip tweeted by Al-Sheikh, the Syrian boy was seen smiling while wearing the club's blue and yellow scarf and holding their flag.
Nabil Saeed who lost his father in the devastating earthquakes that struck Turkey and Syria expressed his desire to meet Ronaldo in a video clip that gained widespread sympathy on social media.
Turki Al Sheikh shared the video on Twitter on February 16 inquiring about Saeed. "My son, you and your mother are welcome. Who can help me reach him?" he tweeted.
On February 6, a double earthquake struck southern Turkey and northern Syria, with a magnitude of 7.7; This caused human losses, during which tens of thousands of people were killed and wounded, in addition to huge material losses.
Subscribe us on