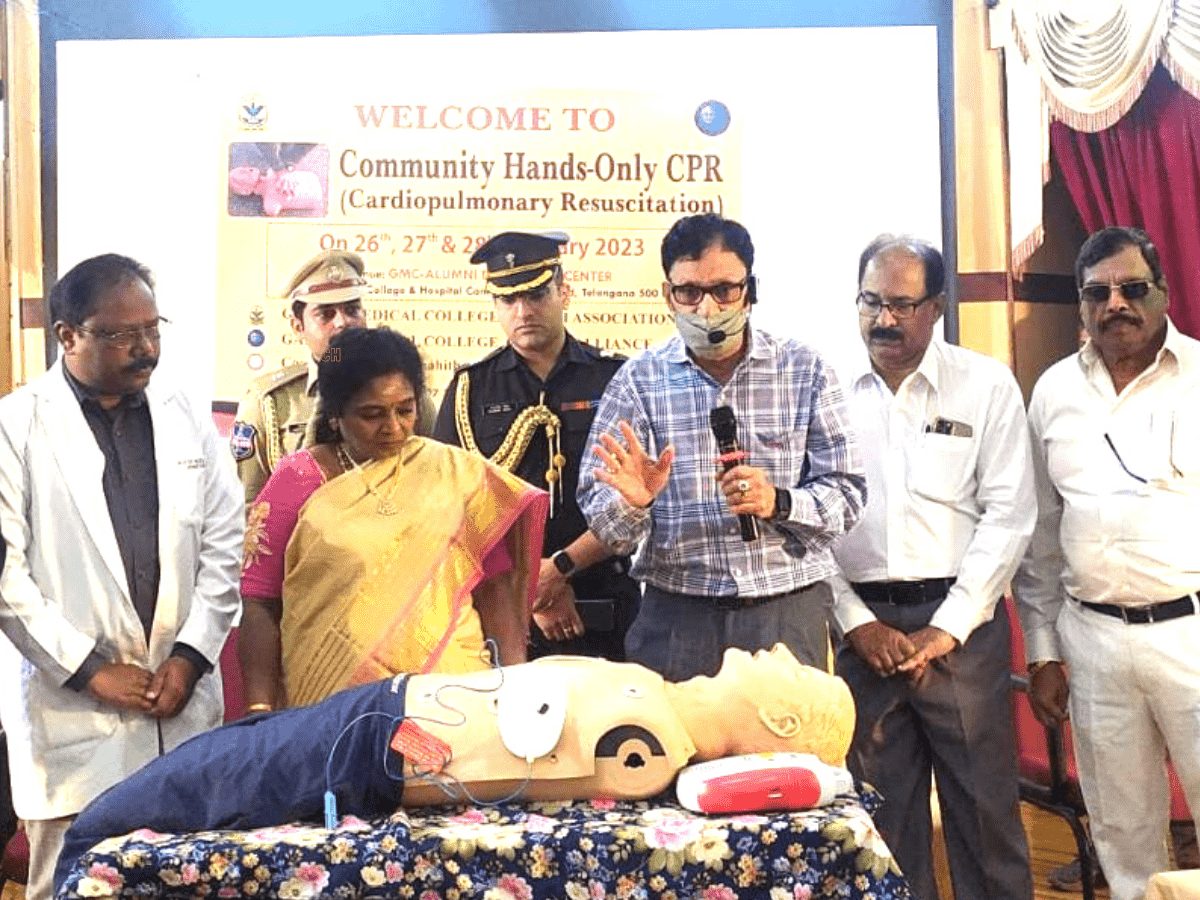 Hyderabad: In view of the sharp rise in cases of sudden heart attacks reported in recent times, Telangana Governor Tamilisai Soundararajan has urged that every citizen must learn the technique of performing CPR (Cardiopulmonary resuscitation).
Tamilisai participated in the free community hands only-CPR programme at Gandhi Medical College on Friday which emphasized that more people be trained in administering CPR correctly.
"Emphasised timely CPR as FIRST AID on the spot within a time frame called GOLDEN HOUR'S will be life-saving. Cardio-pulmonary resuscitation must become a social movement. Everyone should learn it.", stated the Governor in her tweet.
The workshop will be held for another two days at the medical college's Alumni Association Building, Gandhi Hospital, Musheerabad.
It saw the participation of over 300 people including students, teachers, policemen and the general public attending day 1 of the free workshop.
Trainer and volunteer from the American Heart Association, Dennis McCauley gave a demonstration to the audience on how to handle a person who has suddenly collapsed before initiating CPR.
Giving a step-by-step demonstration, he said that the first thing to do is to move the suffering person to a safe place followed by checking the person for response (breathing) and lastly initiating CPR immediately if the person does not respond.
Compression during the CPR process is the crucial part, remarked the trainers, adding, "It has to be two fingers above the chest bone and that can be in the middle of the chest. Also, the compressions should be two inches deep and they should be at the rate of 100 to 120 compressions per minute."
The programme was able to render useful information that many participants were unaware of, including those with medical backgrounds.
Performing CPR on an intoxicated person, CPR while the person is still breathing, etc were a few of the doubts the audience raised during the session.
Meanwhile, the alumni association has planned to put up Automated External Defibrillators (AED) at several locations across the city.
Subscribe us on