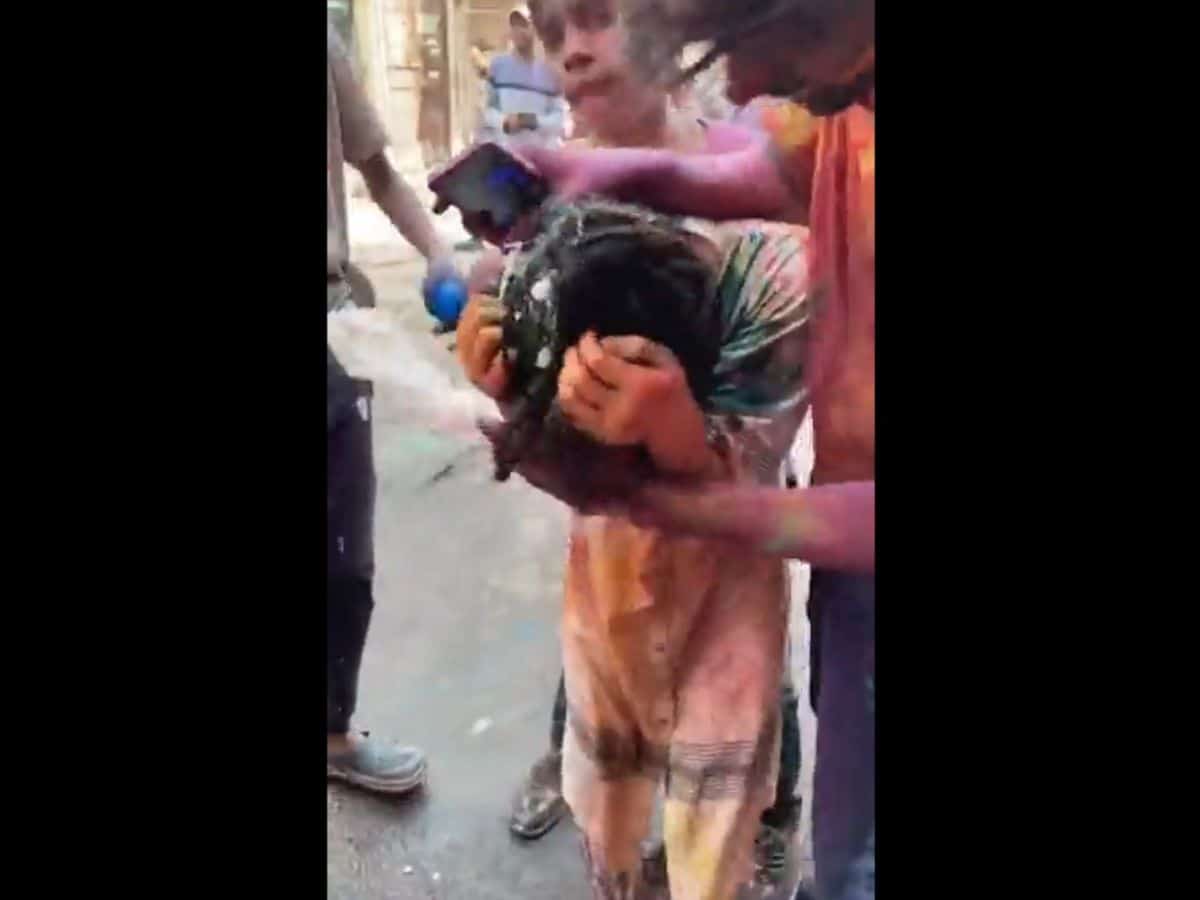 Video of a woman being harassed by a group of men while taking part in Holi celebrations surfaced online leading to outrage. Several media reports have suggested that the woman is a Japanese national.
In a video that's being circulated on Twitter, a woman was seen being groped and harassed by a mob while smearing colors and smashing eggs on her.
Colours were smeared on her face and the nape of her neck, as she ducked another person was seen smashing an egg on her head.
In a matter of seconds, she was pulled close and held by a person while some sprayed colours on her.
She was seen ducking away from the mob while one came up and forcefully smeared colour on her face again. She slapped him and quickly walked into an alleyway, trying to escape from the group harassing her.
Delhi Commission for Women Chairperson, Swati Maliwal responded to the video on Friday and said that a notice is issued to the Delhi police to examine the videos and arrest the perpetrators behind the harassment.
"Very distrubing videos getting viral on social media showing sexual harassment with foreign nationals on Holi! I am issuing notice to Delhi Police to examine these videos and arrest the perpetrators! Completely shameful behaviour!" Swati Maliwal tweeted.
The DCW is also attempting to contact the victim.
A senior police officer said that a tweet has come to their notice which contains a video of Holi wherein few people are seen applying colour on a foreign national.
"The woman seems to be uncomfortable with the actions of the youth. The video attached to the said tweet has been posted on several digital platforms. We have taken cognisance of the video. The video is being analysed to ascertain the requisite details," the officer said.
"Prima-facie, on the basis of the landmarks seen in the video, it seems that it pertains to Paharganj. However, it is being verified whether any such incident took place in that area or the video is an old one," the officer added.
However, no complaint or call relating to any kind of misbehaviour with any foreigner has been received at the Paharganj police station, he said.
"An e-mail has been sent to the Japanese Embassy requesting for help in establishing the identity of the girl or any other details about the incident. The SHO of Paharganj police station has been asked to collect the details of the Japanese people staying in the area and to establish the identity of the boys seen in the video," the officer said.
"Once the incident and details are verified, action will be taken based on merits," he added.
BJP leader KhushbuSundar also responded to the video and called the incident 'sickening'. "Sickening. The woman has to send a notice to NCW," she tweeted.
Bollywood actor Richa Chadha reacted to the videos of harassment and demanded an arrest of the culprits. "Arrest these men," she tweeted.
(With excerpts from IANS).
Subscribe us on